Why You Should Have Bought A 2008 Audi RS4 When You Had The Chance
Audi has consistently proved to be one of the world's most popular and successful car manufacturers. It's true that a lot of their lineup was more like a hit or miss with the people regarding reliability, performance, and affordability. But every once in a while, Audi comes up with a game-changer that would remind people who they are and what they are capable of creating. Cars like the 1980 Quattro, TT RS, R8, and E-Tron GT are good examples of the same.
But we don't think of Audi as the first choice for performance sedans. Mercedes AMG, BMW M, or Porsche usually come to our minds first, but the Audi RS lineup is no slouch either. One of the best of them was the 2007-08 Audi RS4.
The B7 generation Audi RS4 used to be a great bargain for a used performance sedan with plenty of room. It is also available in the wagon body style, known as the Audi RS4 Avant. But if you google Audi RS4 for sale today, you'll see prices in the ballpark of $25,000 to $50,000. Some would even reach as high as the original asking price of around $65,000! Let's take a look at the B7 RS4 and try to understand why the price is so much higher than before.
RELATED: How Reliable Is The 1999 Audi TT?
Audi RS4 Can Still Hang With The Best Sports Cars
One of the best things the Audi RS4 has going for it is the surprise element regarding how good it is. Audi's RS series of cars enjoy a nice fan following. However, as we mentioned earlier, AMG and M-series models from Mercedes-Benz and BMW used to be more prominent performance sedans in the late 2000s, especially compared to Audi.
The subtle looks further make it look more in line with a sleeper car, and the stylish 19" alloy wheels and flared wheel arches couldn't help much either. But the Audi RS4 is a beast of a car with a 4.6-second 0-60 mph time and a 155 mph electronically limited top speed.
Its key feature is the 420 hp naturally aspirated 4.2-liter V8, one of the better-sounding engines out there. Combine the V8 engine with Audi's coveted Quattro all-wheel-drive system, and you've got a winner. And the sedan feels great behind the steering wheel as well.
If The Grand Tour's latest episode, A Scandi Flick, suggests anything, it's that the RS4 that Jeremy Clarkson drove in the wilderness of Scandinavia did not drag rally icons such as the Subaru Impreza WRX and the Mitsubishi Evo VII GSR. In fact, it was the opposite; The Audi led most of the ice-covered way thanks to more power than the two and poised driving dynamics.
RELATED: 10 Most Reliable Cars Audi Ever Made
The RS4 Is A Rare German Performance Sedan In The US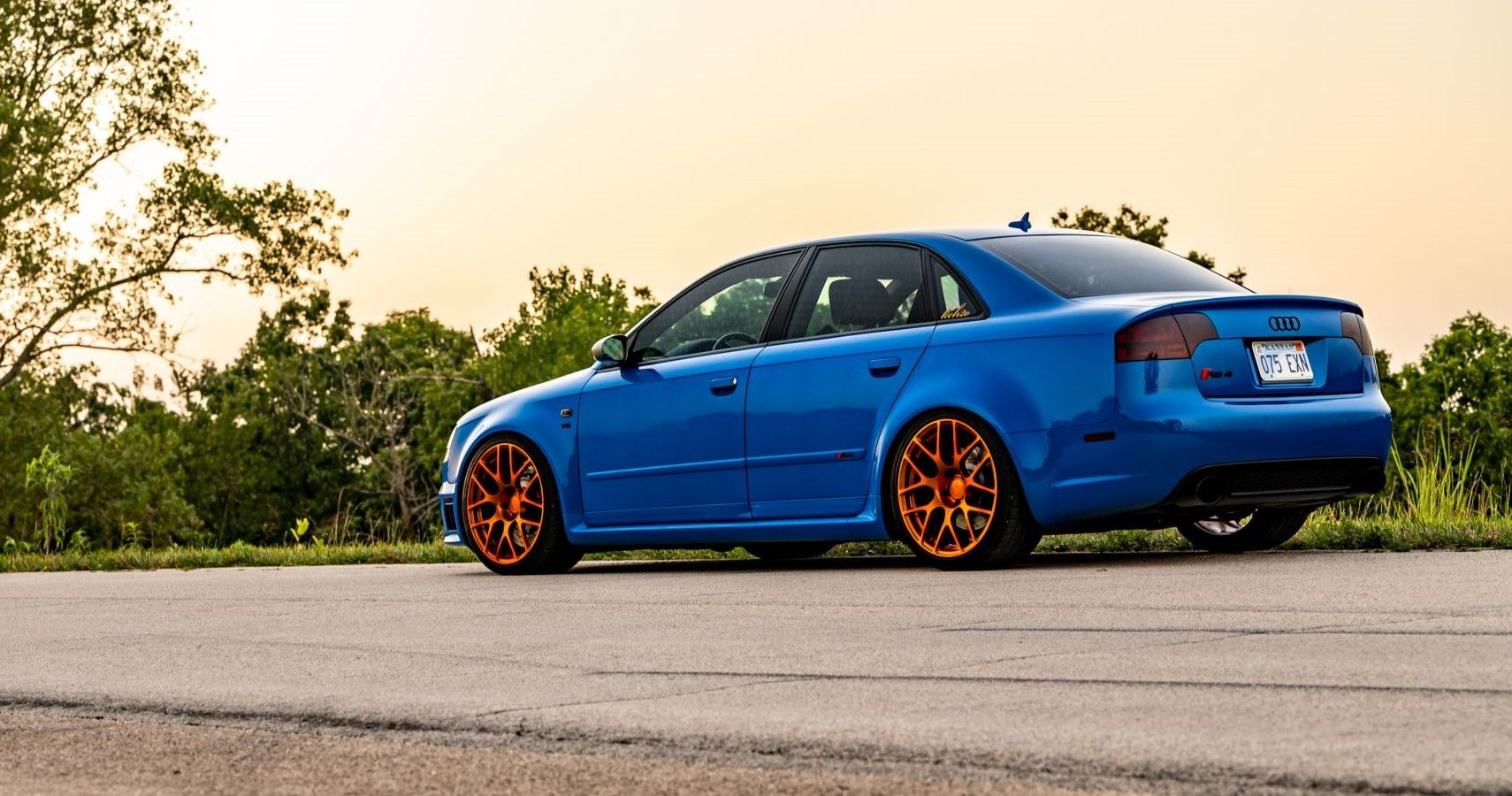 It's not that we particularly prefer the 2007-08 RS4 over other years. That's because those are the only models you'll find on the used car market anyway. You'll find plenty of RS5, RS6, or RS7 ready for a new owner, but if you google Audi RS4 for sale, you will not find many, or, depending on the state, you won't find any at all.
Rarity and exclusivity make a vehicle much more desirable, but that also reflects on its value and, therefore, its asking price. The people who haven't sold it yet, or bought it when it was much cheaper, are in for a treat now.
That's because they have either enjoyed driving a car for lots of years and are still getting its value's worth, which is very high. Or, they bought it for cheap and can now actually make a profit from selling it for much more than they got it for.
And it goes without saying that the Audi RS4 is a magnificent car that is excellent in front performance, subtle and sensible in front appearance, and desirable in front exclusivity.
Whether buying one right now is a good deal or not, only time will tell. But we know this, the RS4 is a magnificent car that few people gave a chance to, and most of those owners of the comfortable and fast German sedan are happy.
RELATED: Here's What Makes The Audi S3 A ​​Perfect Daily Driver For Gearheads
Audi RS4 Is An Expensive Car To Maintain But…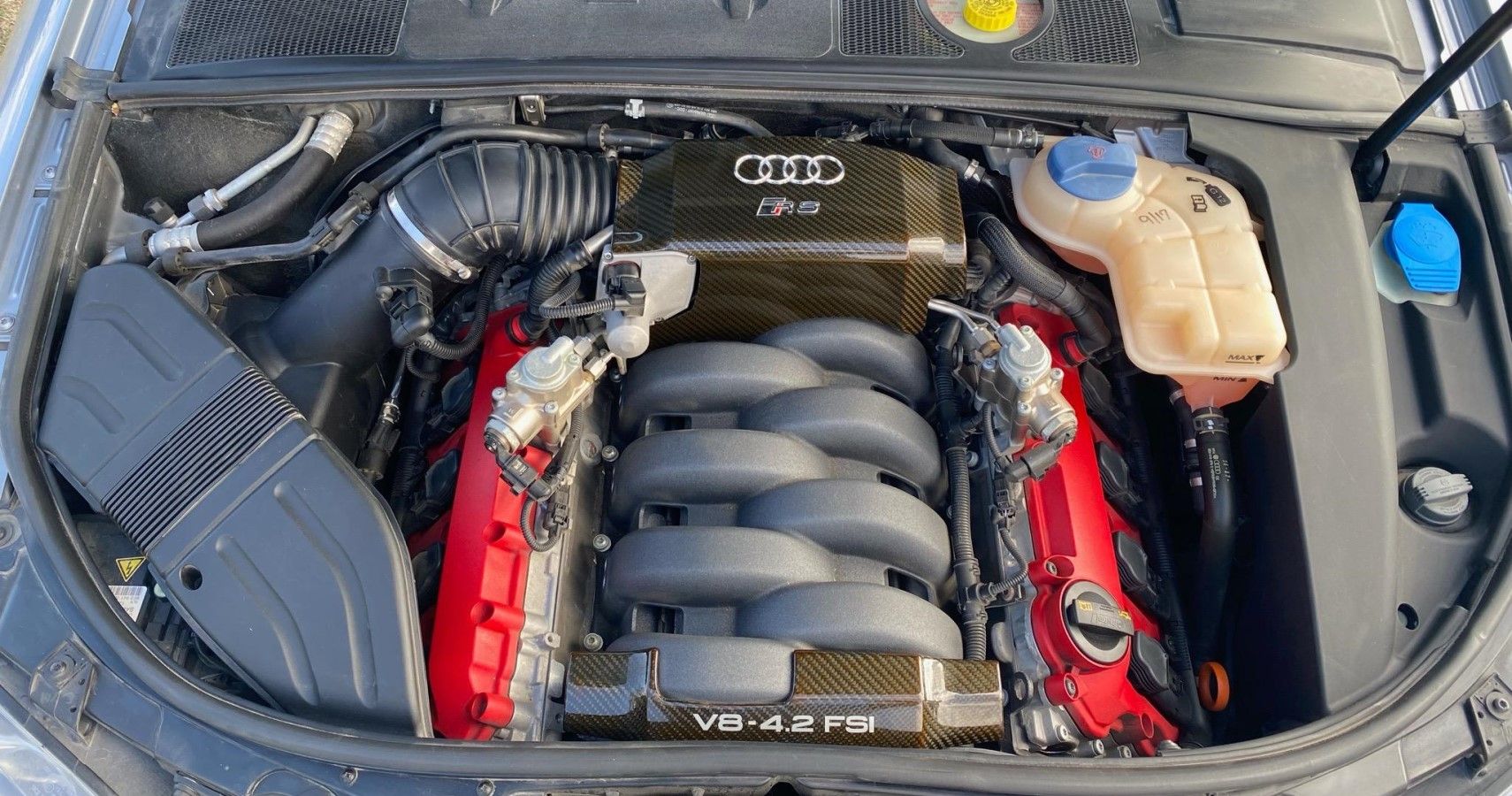 Wise men already know that there is much more to finance and budget than buying a car. There are several cheap performance cars that are money pits and end up lowering your bank account numbers significantly.
The Audi is not a money pit, but it's not as affordable as a Japanese or other German sports cars either. If we take a look at the vehicle history and compare the Audi RS4's maintenance cost with the corresponding BMW M3, the 2007-08 Audi RS4 ends up asking a few bucks more. The same goes for the Audi RS4 Avant as well.
That may not be a deal breaker considering its amazing performance, but it might be one of the reasons why owners have started asking more for their Audi RS4 from potential new owners these last couple of years.
Reliability plays a pivotal role here, and thankfully, the RS4 is a reliable German sedan that can last as long as 200,000 miles if the owner has taken proper care of it. That being said, the Audi RS4 has a reputation for needing work on stuff like its suspension, engine carbon build-up, and timing chain every once in a while.