Varcoe: De Havilland to announce aircraft complex west of Calgary
De Havilland Field will include a runway, aircraft assembly facilities, parts manufacturing and distribution centers and a corporate head office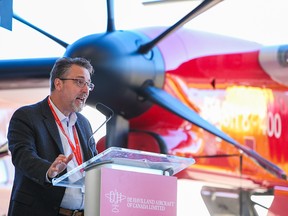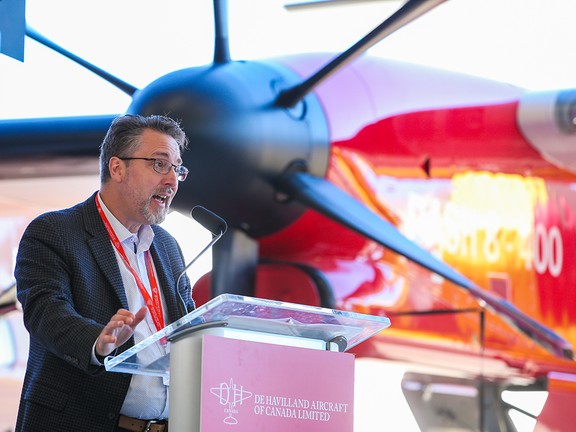 Article content
De Havilland Aircraft of Canada Ltd. will today unveil ambitious plans to build a major airplane manufacturing complex and aerodrome east of Calgary, which is ultimately expected to become home to 1,500 workers.
Article content
The privately owned company, which moved its corporate headquarters to Calgary from Toronto earlier this year, will announce Wednesday that it intends to construct the development in Wheatland County.
Article content
The sprawling complex will be built on 1,500 acres of land just south of the Trans-Canada Highway, about 15 kilometers west of Strathmore.
Article content
De Havilland Field, as the project is called, will include a runway, aircraft assembly facilities, parts manufacturing and distribution centers, and maintenance repair operations.
It's also planning a general corporate office — its head office will be based there — an educational space for training staff and a De Havilland fleet museum, a nod to the company's deep roots in Canada's aviation sector.
Article content
"We will have anywhere from 12 to 15 different facilities. . . distribution centers, engineering offices. It's the whole cache that you will have for a manufacturing environment," company CEO Brian Chafe said in an interview.
"I would say 1,500 jobs will be the beginning of what we're talking about. Our growth in some ways is going to be based on how quickly we can get the resources."
Article content
The company, which previously operated as Viking Air in the city, already refurbishes and upgrades older models of the well-known "Super Scooper" firefighting aircraft (the Canadair CL-215 and CL-415) near the Calgary airport, employing about 1,000 people at six buildings.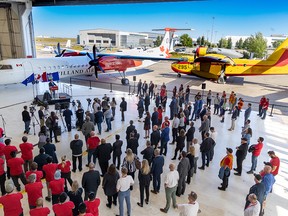 In April, it gave the green light to kick-start a new amphibious firefighting manufacturing program, building the DHC-515 Firefighter, after European Union countries signed letters of intent to purchase 22 new aircraft.
Article content
Chafe said the De Havilland Field investment and build-out will take place over the next 10 to 15 years as it grows its various manufacturing lines. He did not disclose the expected capital costs, but said it would "easily" be in the hundreds of millions of dollars.
De Havilland expects construction to start after the site has been rezoned by the county, which could occur in late 2023. The company said the complex's first buildings could be operating by 2025. A news conference regarding the announcement is scheduled for 2 pm
In an interview, Premier Jason Kenney said the project will jump start the growing aviation sector in the province.
"This is one of the most important announcements for Alberta's economy in at least a decade," Kenney said.
Article content
De Havilland has expanded its presence in Calgary in recent years as it has been looking for a base to amalgamate various operations.
In February, the company announced the consolidation of Viking Air, Longview Aviation, Pacific Sky Training and De Havilland Canada under the operating brand De Havilland Aircraft of Canada. The company is owned by Westerkirk Capital, which is owned by billionaire Sherry Brydson.
About three years ago, Longview Aviation acquired the De Havilland Dash 8-400 manufacturing program from Bombardier, which had already decided to sell its Downsview manufacturing site in Toronto.
The Calgary area had several factors working in its favor to host the new aircraft manufacturing complex, such as a lower cost of living for employees, a young workforce and affordable housing prices, Chafe said.
"We had to have a new home. What we're looking to create here you can't really create something like that in the GTA (Greater Toronto Area) and be economical at this point in time," he added, noting the company will retain its existing operations in Victoria and Toronto .
"We thought it was a great area for us to grow our existing footprint. . . the foundation and the heartbeat is going to be here in Alberta."
Article content
The company has three aircraft lines that it is looking to build at De Havilland Field. The DHC-515 is already moving ahead and De Havilland expects to begin cutting metal on the firefighting planes within the next six months at its Calgary operations.
De Havilland also manufactures the DHC-6 Twin Otter plane and the Dash 8-400 passenger aircraft; production on both was paused at the start of the pandemic in 2020.
Chafe said the company is working to bring the other two aircraft back into production. A review of the Twin Otter is underway and a decision is anticipated within three to six months on the iconic utility aircraft.
Once it's complete, a review of the Dash 8 — a turboprop aircraft that can seat up to 90 passengers — will take about a year to complete.
Article content
"I can guarantee you that our goal and the mandate was given to me to get back into production for all three of those platforms and maybe some derivatives of some other ones," he added.
"All of them are driven by customers coming to us."
One key issue will be to find enough trained staff to fill the various jobs required in manufacturing planes, and Alberta is already facing a labor shortage.
The entire industry employs about 10,000 Albertans, according to the province. Chafe said the company is partnering with post-secondary institutions such as SAIT to ensure it will have enough skilled workers to fill the array of jobs.
MLA Richard Gotfried, chair of the province's Strategic Aviation Advisory Council, said De Havilland Field could spur the formation and growth of subcontractors and suppliers tied to building the new aircraft.
Article content
"That's when you start to build that ecosystem," he said.
Calgary-based industry analyst Rick Erickson noted that jobs in the airline industry are well-paid and in high demand. The possibility of restarting production of the Dash 8-400 would create many new positions in southern Alberta.
"For the Alberta aviation industry, this is absolutely stunning," he said. "This is going to be a massive shot in the arm to Alberta's transportation and logistics industries."
The province previously identified the aviation sector as one of the core industries to grow as part of its economic recovery plan coming out of the pandemic.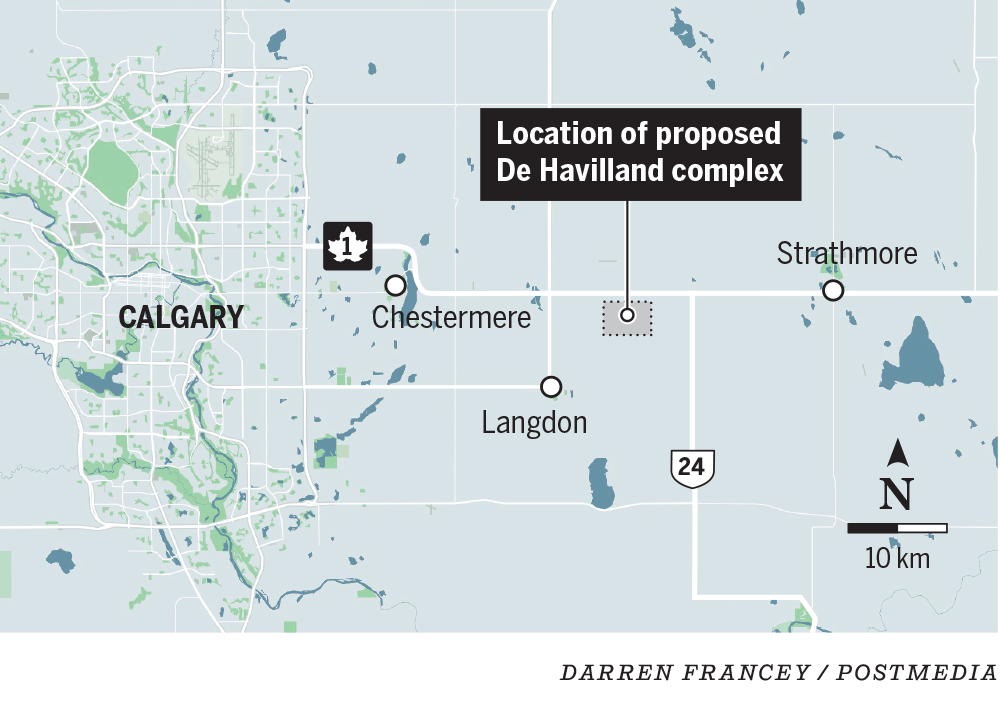 Kenney sees De Havilland Field as a building block for future diversification, increasing the province's primary manufacturing abilities.
Article content
"I've got to confess, I was a bit skeptical when people suggested that aviation could be a major growth industry because you just don't identify Alberta as a leader in aviation. But this puts us in the game in a huge way," Kenney said.
"We have always — I think in our imagination — thought of building big products like airplanes as central Canada's domain. That's no longer the case."
The province said it is not providing any incentives to the company to build the new complex.
Varcoe: Calgary awaits takeoff of new 'Super Scooper' plane as De Havilland Canada bases HQ in city

Kenney calls De Havilland announcement 'historic' news for Alberta's economy
Wheatland County Reeve Amber Link said the site for the aviation center is farmland, but the municipality had expected it would be needed for industrial or commercial purposes as part of its longer-term plans.
The company will be eligible for a local incentive program that's in place, which provides a 40 percent exemption to municipal property taxes for up to three years on major capital investment.
"This is huge, not just for Wheatland County but definitely for the province of Alberta," Link said of Wednesday's announcement.
"I'm sitting here smiling ear to ear. . . it's just so gratifying to see them choose our county."
Chris Varcoe is a Calgary Herald columnist.