The Mazda CX-90 Is A Firm Stand Against BMW And Audi
Mazda is making a big statement with the reveal of it's CX-90 SUV, and it has the higher-end market taking notes.
Front passenger three-quarter shot 2024 Mazda CX-90
2024 is going to be a big year for the auto industry, and Mazda is already on the move to capitalize. Just recently, the company unveiled its largest SUV to date, and it has the automotive world's heads spinning. Enter the CX-90. Mazda has probably been best known for its compact sports cars, such as the RX-7 and MX-5 Miata, but all of that is about to change as they debut a machine that already has other manufacturers like Audi and BMW rethinking their next moves. . Move over, guys; There's a new family vehicle in town that's here to stay.
Related: The 2024 CX-90 Will Be Mazda's First Plug-in Hybrid in the US
The Mazda CX-90 is a first in many ways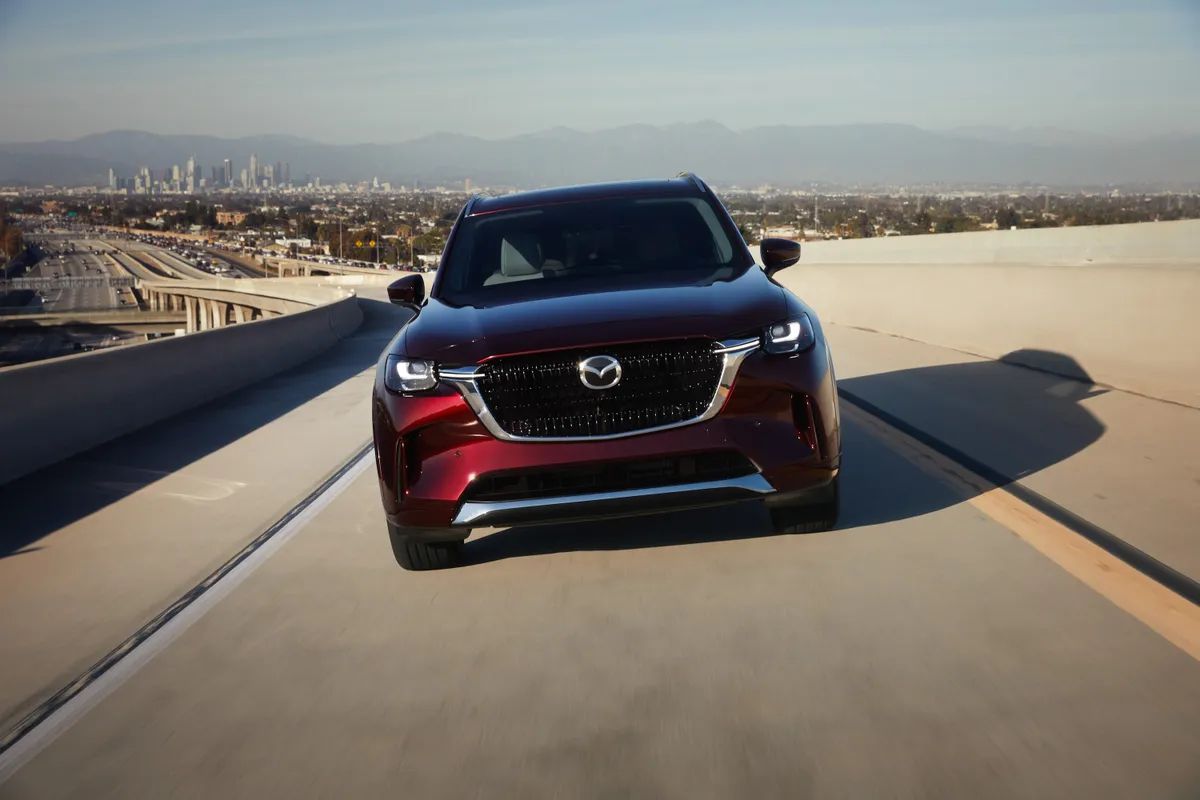 Front shot 2024 Mazda CX-90
The 2024 Mazda CX-90 not only replaces the CX-9 as the largest offering in the Mazda line-up, but it also breaks ground for the company in a multitude of other areas. For starters, the CX-90 will be their flagship hybrid model, boasting two new powertrain options never offered in the Mazda family — one a turbocharged four-cylinder/electric motor combo and the other an all-new turbocharged inline six-cylinder engine. with hybrid assist. The 2.5-liter inline four-cylinder is teamed up with a 17.8-kWh battery pack that brings 323 horsepower and 369 pound-feet of torque, and the inline-six (having a 48-volt hybrid system) boasts 340 horsepower with 369 pound -feet of torque also. All-wheel drive comes standard, as well as an all-new eight-speed automatic transmission for both powertrains to round out the CX-90's capabilities.
Other notable firsts include a seven to eight-passenger capacity, including third-row seats, available "See-Through View" monitor, and premium interior materials, including Kumihimo cloth stitching and Maple wood trim – and that's just the beginning. Up front, technology includes a 12.3-inch center display unit which is two inches bigger than the screen in the CX-9 and although Mazda is quiet on full specifications, we do know that the vehicle will utilize Mazda Connect, as well as Apple CarPlay and AndroidAuto. Just behind the cockpit, the second-row seating will be available in three options depending on the model choice — a three-person bench, two individual captain's chairs with pass-through, or captain's chairs with a fixed console between them.
A Mazda That's Second To None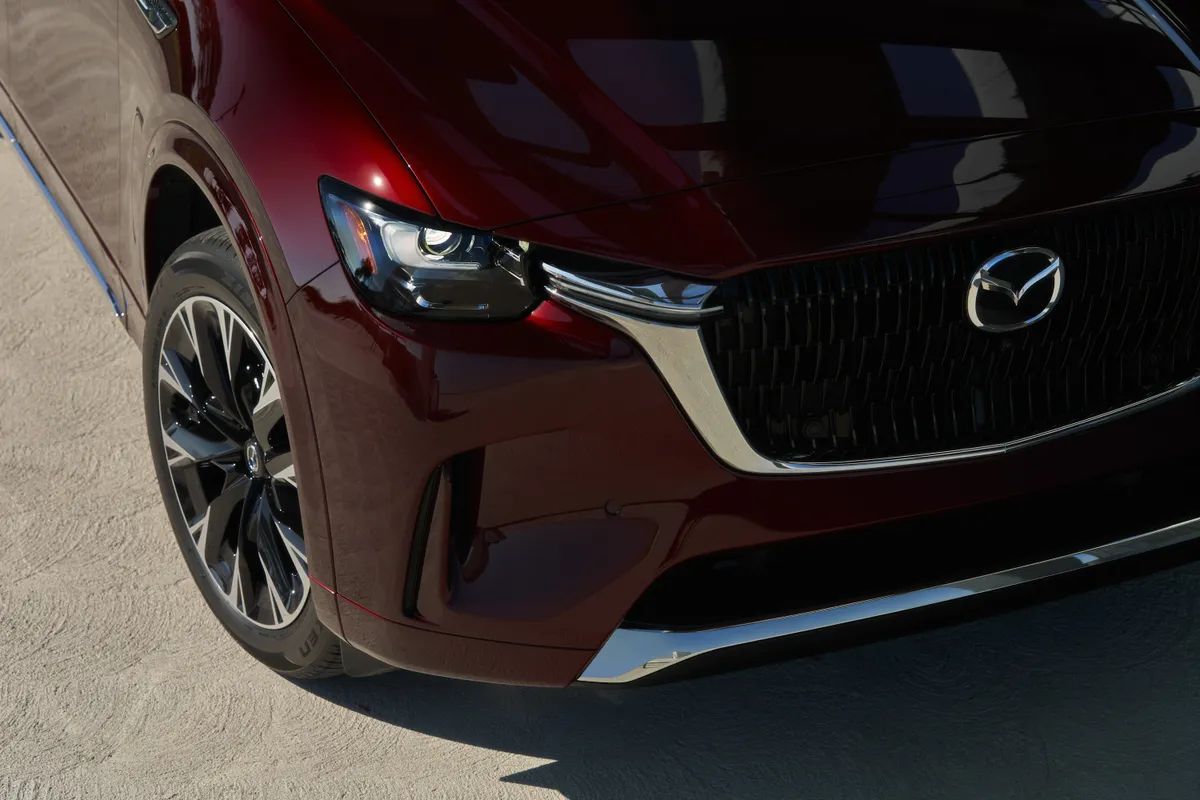 Front passenger-side fender shot 2024 Mazda CX-90
Not only is the all-new CX-90 the first of its kind in many ways, but it's also placed Mazda in the running with more premium SUVs for their share, which has them on high alert. Up until now, the market for luxury sport utility vehicles has been dominated by brands like BMW with their X5, the Acura MDX, Volvo's XC90, and the Audi Q7, but all of that is about to change. As the debut of this marvelous flagship marks the genesis of what's to come, the team at Mazda is very hopeful that they will achieve a status not previously held. With the introduction of the CX-90 into the mix, everything now becomes possible for Mazda and what the future holds for them.
For years now, the Mazda Motor Corporation has been strategically aligning itself with a shift from being a small mass-market contender to a larger supplier of more upscale and upmarket products. With the price gap between regular and premium vehicles more noticeable in the United States versus Japan, they have been pacing themselves and planning for the introduction of the CX-90. In 2019 Akira Marumoto (Mazda President and CEO) talked at the Headquarters in Hiroshima, Japan, about remaking Mazda's US market and plans for a new large-vehicle platform, and it seems as though the CX-90 is the relatively quick manifestation of those ideas.
Related: Everything You Need To Know About The 2024 Mazda CX-90 Plug-In Hybrid
The Mazda CX-90 is an Exquisite Third Option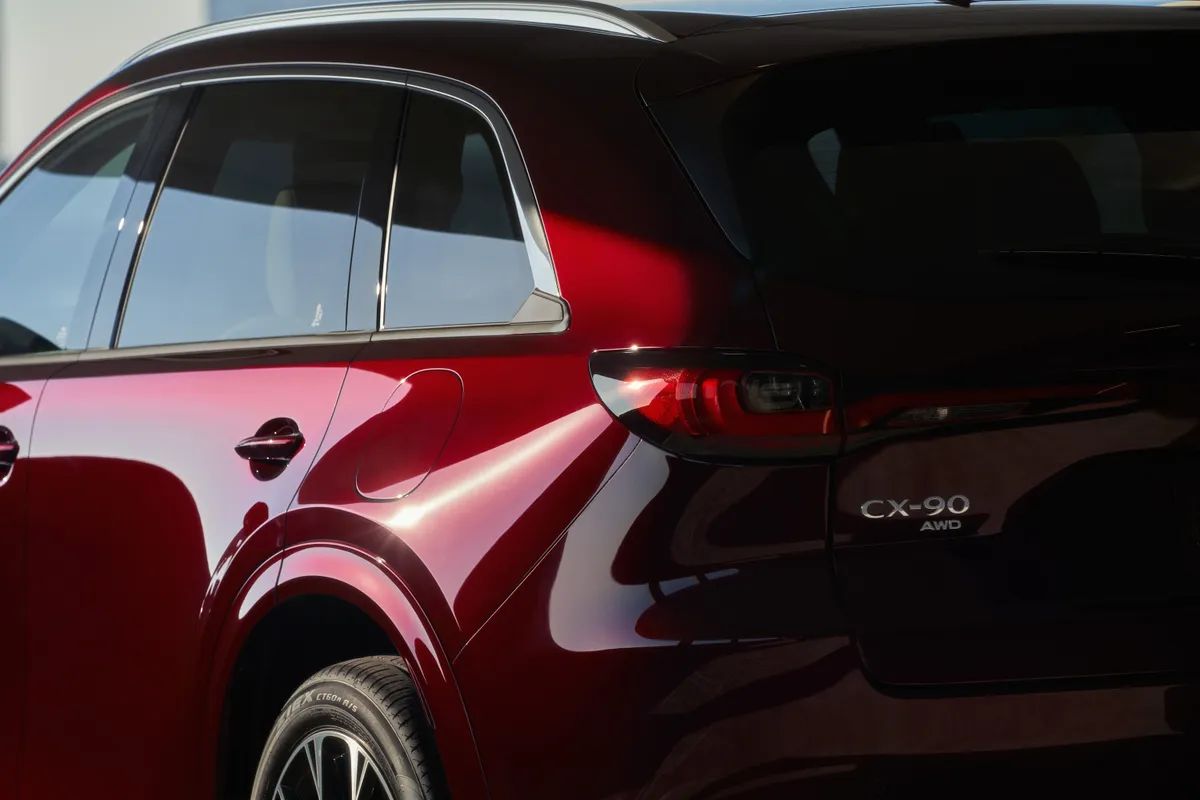 Rear driver-side three-quarter shot 2024 Mazda CX-90
Adding to an already volatile automotive industry can be risky, especially with the new 'green energy' push almost front and center. With regulations and governing bodies running rampant with new agendas, the internal combustion engine is slowly fading. Yet Mazda has an ingenious answer for that – build a hybrid. While the world walks on eggshells about electric cars and rides the fence on whether owning one is a good move, Akira Marumoto is playing it safe for good reason – investing in new technologies to produce electric vehicles is costly.
As BMW releases their X5 PHEV and Audi offers hybrid models of the Q5, A7, and A8 (as well as their fully electric e-tron) the evidence speaks for itself in terms of the age we're in. Jeff Guyton (CEO, Mazda North America) spoke with Fox News Digital and expressed his ambitions for the CX-90 stating, 'We really think that for the majority of customers who are now interested in electric, they're thinking about electric, but really don't want to experience some of the compromises that electric has right now, the plug-in offers a great opportunity for them.'
The Mazda CX-90 Comes Forth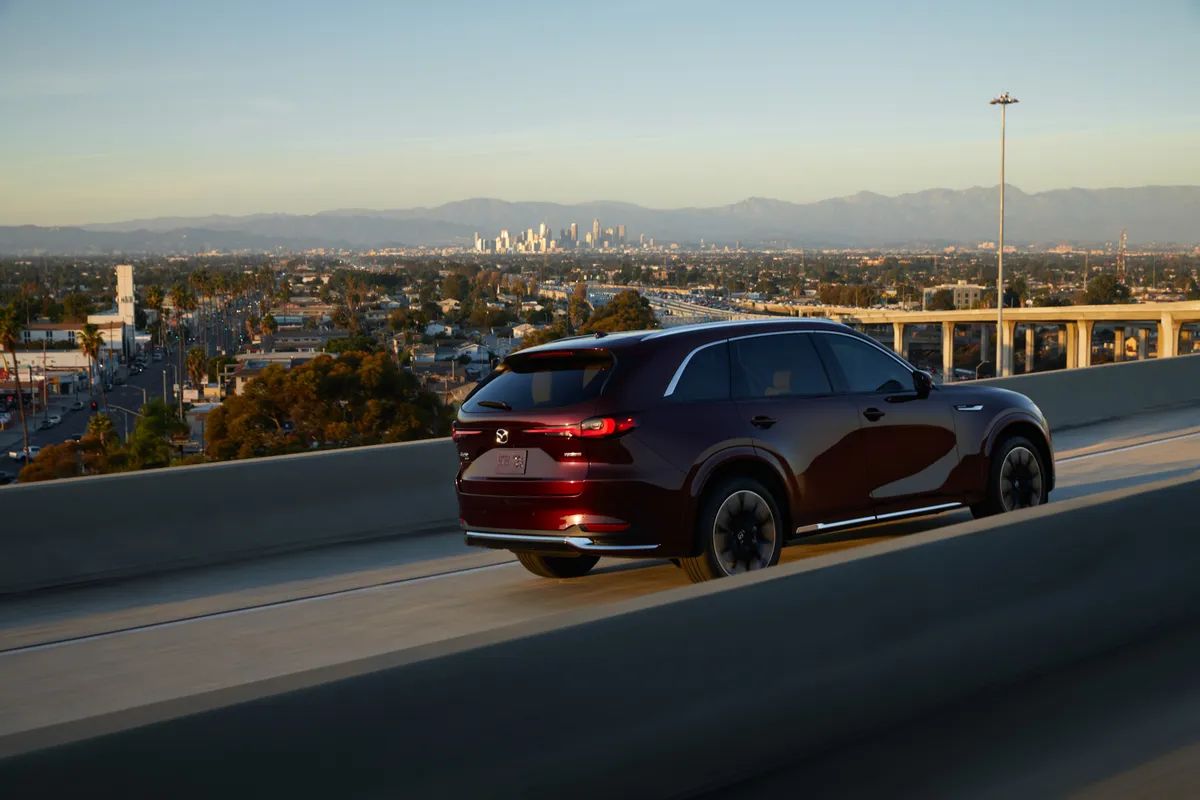 Rear passenger side three-quarter shot 2024 Mazda CX-90
A lot of things come into consideration when purchasing an SUV. It needs to look great, meet all of your needs, get a good mileage, and be cost-effective. Mazda has unified this foundation of characteristics and encompassed so much more with the 2024 CX-90. While the MSRP isn't set just yet, the base price is looking at starting near $40,000. For what we've seen so far, we don't have to tell you how beneficial that is. Having a performance-oriented platform, premium design, empowering technology, and a massive lineup of standard and available safety features, Mazda has created the ultimate win-win vehicle with the CX-90, and we are anxiously awaiting its arrival on the roads of the world.