Popular EVs in Canada, inside the Ferrari SP3 Icona, and more
Do you know where the world's largest roadside lobster lives?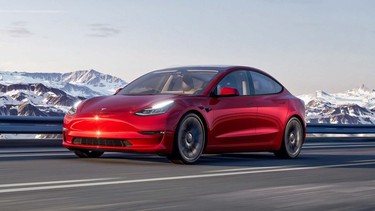 Article content
Welcome to our roundup of the biggest breaking stories on Driving.ca from this past week. Get caught up and ready to get on with the weekend, because it's hard to keep pace in a digital traffic jam.
Article content
Here's what you missed while you were away.
10 most popular EVs in Canada in 2022, so far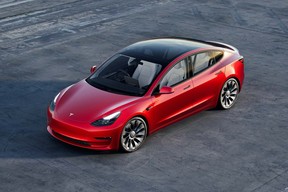 The electrified vehicle sector is celebrating after a positive start to the year. It's been the perfect storm of government rebates (the feds are offering $5,000 per qualifying electric vehicle) and rising fuel prices that boosted sales in Canada by 11 per cent in the first half of the year, and some EVs are proving to be more popular than others.
Unsurprisingly, Tesla topped the list as it continues its dominance as the go-to EV brand for Canadians. Hyundai snagged both second and third spots for most popular, which included the Ioniq 5 and the Kona, respectively. The Chevy Bolt and Volkswagen ID.4 took fourth and fifth place to round out the top five. To see the full list of the top ten EVs in Canada, click here.
Article content
First Drive: 2023 Ferrari SP3 Icona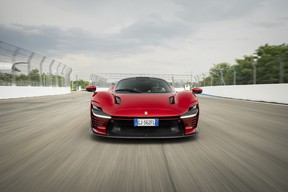 David Booth gets inside the 2023 Ferrari SP3 IconaFerrari's new mid-engined supercar based on an iconic moment in motorsport history, the 1967 24 hours of Daytona Race and Ferrari's triple podium placement.
The 2023 Ferrari Daytona SP3 'Icona' honors the event with a modern racer motivated by a 6.5-liter 828-horsepower V12 engine (the same as the 812 Competizione, but revised for 10 more hp) that runs without the assistance of any form of hybridization. That, strapped to the Icona's carbon fiber tub provides some superb handling that compares to the "458 on anabolics," according to Booth, and a straight-line 100-km/h performance of 2.85 seconds. Truthfully, such antics, although possible, aren't encouraged during press drives of supercars that cost US$2,218,935 (CAD$2.85 million). Maybe on the Second Drive…
Article content
Batmobile shop in Indiana questionably raided by out-of-state police
It pays to befriend the Sheriff. At least that's the case if your local guy is Sheriff Carlos Bolanos from the San Fran Bay area. Bolanos' buddy Sam Anagnostou, a realtor in the region, commissioned a Batmobile replica from Fiberglass Freaks in Indiana and was getting impatient with the delivery of his custom car, so he asked his high powers Sheriff pal to pay a visit to the shop several states over.
According to reports, Bolanos sent a four-man team across the country to raid the shop and stir things up. Unfortunately for Anagnostou, that didn't speed things up. In fact, we now know that his rig was purposely put on pause because he missed a US $20k payment installation, so that's awkward. And, of course, alarm bells were sounded to Bolanos' poor behavior, too.
Article content
POV: The 2022 Toyota GR86 in the passing lane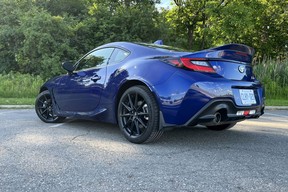 Back with a new design for its second generation, the 2022 Toyota GR86 is a welcome 2+2 sports coupe, even if it's a close relative to the Subaru BRZ. All are welcome at this family reunion.
The Gazoo Racing division borrowed Subaru's 2.4-liter horizontally opposed four-cylinder, making 228 horsepower and 184 lb-ft of torque that peaks at 3,700 rpm, a leap up from the former generation's 6,600 rpm summit. The result? A peppier step, best enjoyed with the six-speed manual transmission that Stephanie Wallcraft tested in this Performance Review of the $34,490 Premium trim model. Wallcraft notes some quirks and perks in the interior, touches on the car's visual distinction from the aforementioned first cousin, and dutifully enjoys the passing lane.
Article content
Have you driven by these record-setting Canadian roadside attractions?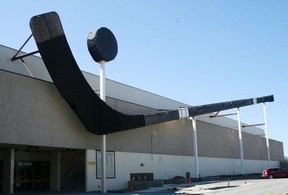 When you're in a country of highways, sometimes the best way to get the attention of everyone speeding by is to make your message bigger. Canada has really committed to this. The Sudbury Nickel. The Duncan Hockey Stick. The Drumheller Tyrannosaurus. Sometimes it works out and the massive representation looks like the thing it's supposed to represent, and other times you're saddled with a moose that late night host Stephen Colbert described as "a papier-mâché dog from an abandoned theme park."
In our effort to go big while everyone goes home, we have taken some titles. Do you know where the world's largest lobster lives? How about the world's largest paper clip? Travel the country coast to coast to find out…or click here and read about these nine record-setting roadside attractions.