Paladin Energy: Restarting Langer Heinrich Makes Sense
Introduction
I've covered several uranium mining companies over the past year and today I want to talk about ASX-listed Paladin Energy (OTCQX:PALAF). The company was a popular investment in the sector during the 2005-2007 uranium bubble as it was selling its uranium on the spot market but this strategy became its undoing as uranium prices slumped over the following years.
Paladin Energy went through a restructuring and its flagship Langer Heinrich mine was shut down in 2018 when spot uranium prices were hovering around $25 per pound. With uranium prices rebounding in 2021, the company has secured funding for the restart of this mine and its market valuation has surpassed $1.5 billion.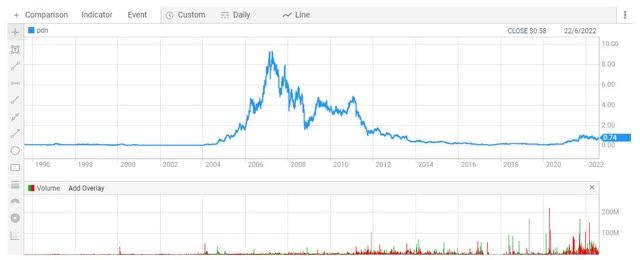 However, I think Paladin Energy looks overvalued at the moment even if the commissioning of Langer Heinrich goes smoothly and spot uranium prices average $60 per pound over its life of mine. Let's review.
Overview of the business and financials
The main asset of Paladin Energy is a 75% stake in Langer Heinrich, which is an open pit uranium mine located in the western part of Namibia. Some of its other assets include a 65% interest in the Michelin uranium project in Canada, and the Manyingee and Mount Isa uranium properties in Australia. These three assets have mineral resources of 317.6 million pounds of uranium but are nowhere near production.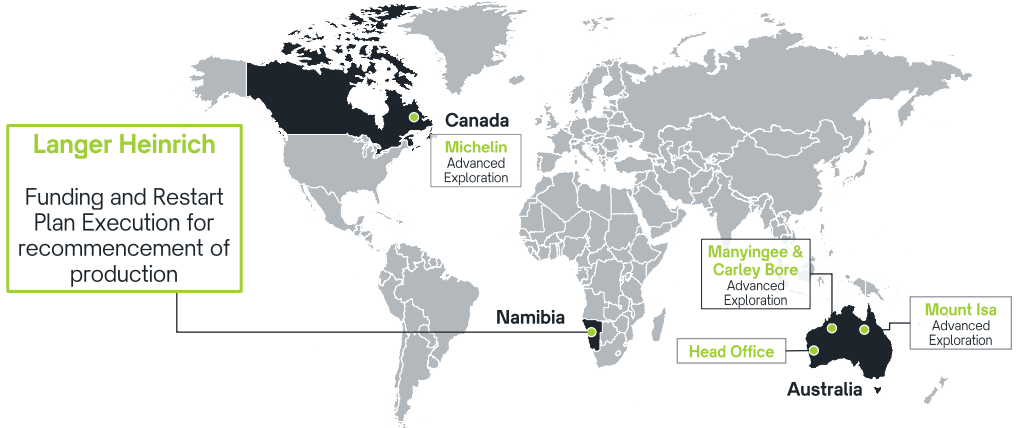 Langer Heinrich is located around 40 kilometers southeast of Rossing, which is the world's longest-running open pit uranium mine. Before its shutdown, Langer Heinrich produced around 43 million pounds of uranium over a period of 10 years and its C1 Cost of production was running at close to $30 per pound most of the time.

At the moment, the project has reserves of 83.8 million pounds of uranium, but the average grade is much lower than the feed mill grade in the good old days, which means that production costs should be higher.

However, Paladin Energy has developed a restart plan that envisages peak annual production of 6 million pounds over 7 years which should cut unit costs. In addition, the company wants to use the existing stockpiled material to feed the processing plant during a ramp-up phase of 15 months, which is expected to slash C1 Cost of production to about $22.30 per pound. Paladin Energy then plans to focus on the high-grade material at an average grade of 571ppm during the following 8 years before switching to low-grade stockpiles at an average grade of 301 ppm in year 10. I think this is a good strategy as it ensures Langer Heinrich will be able to weather periods of low uranium prices during the next decade. However, it puts the mine in a precarious position once it has to switch to low-grade stockpiles.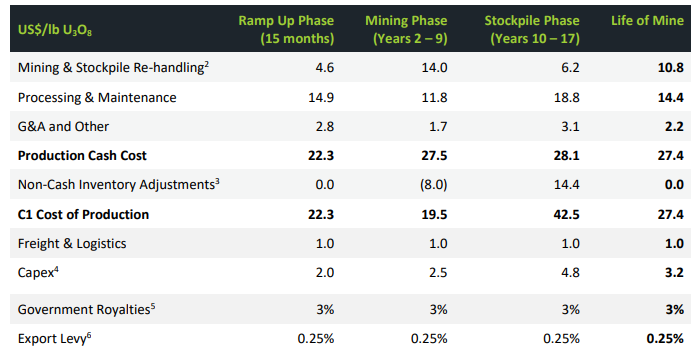 At the moment, Paladin Energy is targeting the first production of Langer Heinrich for Q1 2024 and the estimated CAPEX for the restart of the mine is $118 million. The company had $177 million in net cash as of June 2022 and funding the restart should be easy. However, I find it concerning that the CAPEX estimate has increased from $87 million in November 2021 due to inflation and higher project contingency levels.
Another thing that I find concerning is that only up to 65% of the first year's sales are currently contracted and Paladin Energy has an offtake agreement for just 25% of the life of mine production. And this is just an offtake agreement and not a long-term contract, which means that the company has to rely on spot market sales once again, putting it in a similar position to its dark days. Looking at uranium spot prices, we can see that they have stagnated since September 2021, and they've recently lost the $50 per pound level. Spot uranium prices are currently under pressure because French power utility EDF (OTCPK:ECIFF) is reducing the output at its nuclear power stations due to heatwaves in the EU.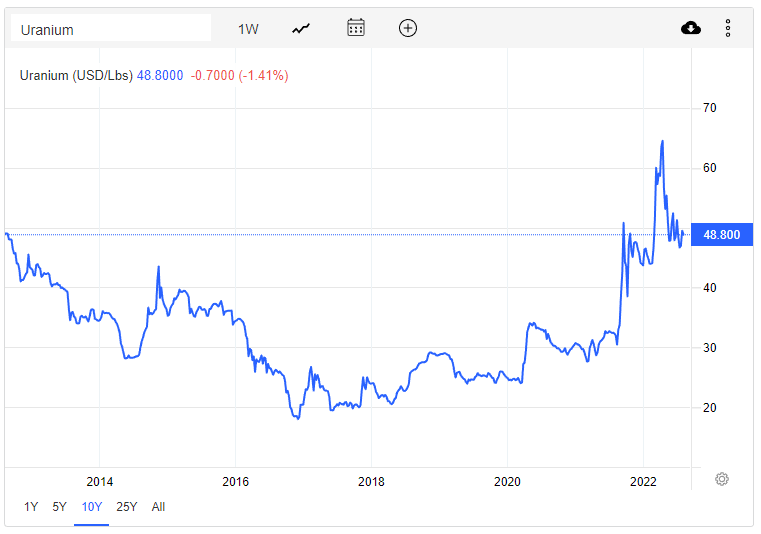 Turning our attention to the market valuation of Paladin Energy, I think the company looks overvalued at the moment even if uranium prices over the life of mine of Langer Heinrich average $60 per pound. First, keep in mind that the company owns 75% of this project. Second, C1 cash costs are usually much lower than all in costs, which include total cash cost of production plus non-production costs, capital expenditure, care and maintenance expenses, corporate costs, and exploration costs. For example, Langer Heinrich's C1 cash costs stood at $25.88 per pound in FY16 while all in company-wide cash expenditure came in at $38.75 per pound. If costs are kept at this level after the restart and considering Langer Heinrich is expected to produce about 77.4 million pounds of uranium over its life of mine, we get a margin of $1.64 billion at $60 per pound. This number represents undiscounted future cash flows and on top of all that, Paladin Energy's share is just $1.23 billion.
That being said, I think that short selling Paladin Energy stock could be dangerous as uranium prices are notoriously volatile. Currently, most uranium producers and developers are currently valued at above 1x NAV. It's not just Paladin Energy, the whole uranium sector looks overvalued based on the fundamentals at the moment.
Investor takeaway
Langer Heinrich is among the lowest-cost uranium projects in the world that isn't currently in the production stage, and it makes a lot of sense from a financial point of view to restart it considering uranium spot prices are hovering near $50 per pound today . However, Paladin Energy still has no long-term sales contracts in place which puts it in a similar position as the time it had to shut down the mine. In addition, the company looks overvalued based on the future cash flows this mine can generate even at $60 per pound of uranium.
Overall, I think that Paladin Energy is overvalued at the moment, but short selling is dangerous as uranium prices are notoriously volatile. Avoid this stock.