Olympic Steel: Deep Value Alert, Trading Below Liquidation Value (NASDAQ:ZEUS)
I had Olympic Steel, Inc. (NASDAQ: ZEUS) as one of my top picks for 2021. You can read that article here and learn more about its business. In this article, I had 3 main dynamics that would lead to increased profits for Olympic Steel and the entire steel industry:
End of COVID demand – economy reopening
New administration's push for more investment in infrastructure
Growing demand for steel from the growing electric vehicle movement.
We are still seeing these tailwinds for the steel industry today. Our economy has opened up, we are at or close to full employment, the revised Build Back Better act is soon to be passed, and the continued rollout of the $1 trillion infrastructure bill.
But, with the US economy reopened, and supply chain issues remaining, we have seen very high levels of inflation. This has led the federal reserve to aggressively raise borrowing rates. So even with all this demand, we have seen GDP fall for 2 consecutive quarters.
The current state of the steel industry
As my last steel article showed, steel prices were rising fast in 2021, hitting a peak of around $1,500 a ton for hot rolled coil – HRC. This created an excellent environment for the steel industry. Over the past few months, prices have declined rapidly – down to below $900. We have seen similar declines in many other commodities such as copper, lumber, fertilizer, etc…
For the steel industry, $800-900 for HRC is still a very profitable level. All the steel firms we track are leading to lower earnings and EBITDA for the 3rd quarter due to this decline in steel prices. But due to this decline in steel price, the stock stocks have been hammered – many trading with trailing and forward P/E's below 4.
With this set-up, why Olympic Steel? One could argue many steel firms are "deep value" alerts: United States Steel (X), Cleveland-Cliffs (CLF), Ternium (TX), etc… In this article, I will make this fairly simple. Olympic Steel is the top pick because of the number one rule in value investing:
Principle #1: Always Invest with a Margin of Safety – Benjamin Graham
Benjamin Graham was an investor and is generally considered the father of security analysis and value investing. Margin of safety is the principle of buying a security at a significant discount to its intrinsic value, which is thought to not only provide high-return opportunities but also minimize the downside risk of an investment. In simple terms, Graham's goal was to buy assets worth $1 for 50 cents. He did this very, very well.
One metric I look at for this margin of safety concept is "liquidation value." My formula for this metric is as follows:
(cash and cash equivalents + accounts receivable + inventory) – (accounts payable + debt).
Or more basically stated – Current assets – Current liabilities and debts.
Olympic Steels 2nd quarter results
There is no other way to describe the Q2 numbers – blowout! The company achieved record quarterly sales and delivered the second-most-profitable quarter in its history. Net income for the second quarter totaled $37.6 million, or $3.26 per diluted share, a 26% increase from a year ago. The company reported all-time record quarterly sales of $709 million in the second quarter of 2022, a 28% increase from the previous year.
As shown in my last Olympic Steel article, they have made several key acquisitions over the past few years to diversify away from steel prices like HRC. Currently, they are around 50% levered to HRC prices down significantly from 5 years ago. With this new level of diversification, the company raised its quarterly dividend from $0.02 per share to $0.09 per share in March 2022.
Here is a quick look at Olympic Steel product and end-user market diversification: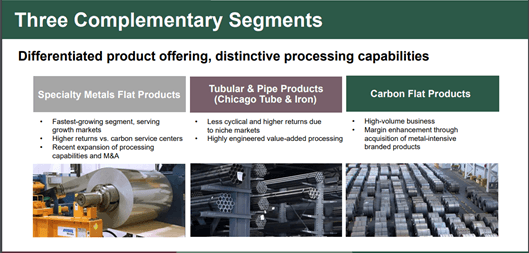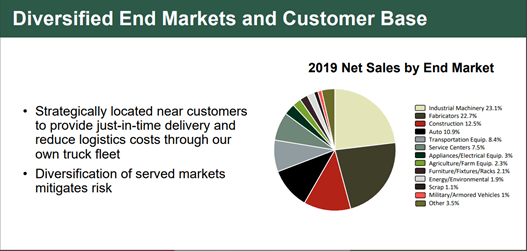 For us, the most positive comment from CEO Richard Marabito was this:
While metal pricing is declining during the third quarter, we remain optimistic regarding underlying demand and our ability to consistently produce earnings in all market cycles," Marabito concluded.
For such a cyclical industry, and Olympic Steel is such a small firm, this is a bold statement. Olympic Steel earned over $13 a share for the past 12 months – P/E of about 2. Yes, we all know this is partly the "cyclical" high point, but now Olympic Steel is stating that they will be profitable at "cyclical" low points.
Just looking forward, and with their dividend now around 40 cents per share, we could estimate a cycle low 12-month period to have EPS of $1-2. So full-cycle – high and lows would see a P/E of around 4 – this is really Deep Value…
Olympic Steel's Liquidation Value
This very hypothetical metric could be described this way: what if another entity were to buy Olympic Steel – let's say another steel firm or a private equity firm, and decided to just sell out its assets and cash out? So in 6-9 months run down the inventory, collect all receivables, and pay all accounts payable, and debts. Here is a table of my liquidation values ​​for the past 12 months:
| | | | | |
| --- | --- | --- | --- | --- |
| | Sep-21 | Dec-21 | Mar-22 | Jun-22 |
| Cash | $15 | $10 | $8 | $8 |
| Accounts Receivable | $303 | $285 | $313 | $321 |
| Inventory | $418 | $485 | $475 | $511 |
| Total current value | $736 | $779 | $797 | $840 |
| | | | | |
| Accounts payable | $160 | $149 | $163 | $182 |
| Asset-backed loan – ABL | $302 | $330 | $312 | $288 |
| Total current liabilities | $462 | $479 | $475 | $470 |
| | | | | |
| Current liquidation value | $275 | $300 | $322 | $370 |
| Liquidation value per share | $24.97 | $27.31 | $29.23 | $33.65 |
So one can see that the current value is about $34 a share – 10% above its closing price on August 4th. And as we can see this is a 35% increase from September 2021. Also of note Olympic Steel is trading at a 30% discount to its net asset value. And management has stated that this value will continue to rise. This is a Benjamin Graham deep value special alert.
Investor takeaways
Olympic Steel has diversified its business model, producing record levels of revenues and earnings, and has the ability to perform well even in economic downturns and low steel prices. With a current market cap below $350 million – this micro-cap could become an acquisition target as well.
We find Olympic Steel to be a strong buy below its net asset value of about $40 a share.
The risks for investors here are small in our opinion since this firm is currently trading below its liquidation value, but risks still remain:
The Federal Reserve raising rates too far, sending the US economy into a deep, deep recession.
Individual stock risk – accounting issues, lawsuits, etc…
We are also very positive about other steel firms: US Steel, Ternium, and Steel Dynamics (STLD).