MANDEL: Auto body shop accused of fraud loses latest battle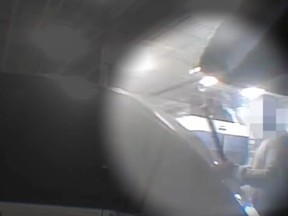 Article content
If you're wondering why we pay some of the highest insurance rates in the country, the answer might be found with the audacious Project Bumper sting that alleges it uncovered auto repair fraud.
Article content
But four years later, at least one of the body shops has still not faced any sanctions for its alleged wrongdoing.
In 2017, Aviva Insurance Canada installed covert cameras inside ten vehicles and then intentionally damaged them in staged collisions to find out if body shops were ripping them off.
Aviva alleges they were.
Aviva reported finding fraud in nine out of 10 cases with padded billing for parts that weren't required or used and repairs never done. Even more shocking, Aviva alleges some of the shops had even deliberately created additional damage and then billed for it.
One of the centers accused of fraud in the elaborate undercover investigation was McLaren Collision in Mississauga. Aviva had purchased a 2010 Ford Fusion and a 2016 Chrysler 200 and had them damaged as if they'd been in collisions. They then had an independent appraiser assess how much it should cost for repairs.
Article content
On May 8, 2017, and Sept. 21, 2017, the cars were driven by private investigators hired by Aviva to pre-arranged locations, with the PIs posing as drivers who'd just been in fender benders. The two damaged vehicles were then towed to McLaren Collision, which had been randomly selected among body shops that had repaired vehicles insured by Aviva in the past.
After the cars were returned, they were again examined by independent experts to find out what was actually done and what wasn't.
_
In invoices released to W5, Aviva alleged McLaren Collision Center billed the insurance company almost $10,000 for repairs done to the Chrysler, almost double the independent appraisal, and $4,888 for the Ford, with $1,877 in what they claimed were unjustified charges.
Article content
According to legal documents, Aviva Canada sued McLaren in April 2018 for $100,000 for the cost of its undercover investigation and $200,000.00 in punitive damages, claiming the body shop replaced parts that didn't need replacing, invoiced for work never done and that hidden camera footage allegedly showed they "deliberately damaged" the Fusion by striking the hood with a bar so it would require $515 in repairs.
McLaren denied all the allegations and countersued. In 2019, they tried to get the lawsuit thrown out by claiming Aviva had acted illegally in staging the vehicle collision damage and by "entrapping" them in their sting operation.
The judge refused to dismiss the suit for several reasons, including "it is plain and obvious that the conduct of Aviva does not meet the standard for entrapment."
Article content
Aviva also reported McLaren to the insurance industry regulator, now called the Financial Services Regulatory Authority of Ontario (FSRA). In March 2020, it served notice that it wanted to order McLaren to immediately stop working on any insurance repairs for a period of one year.
"McLaren Collision is alleged to have unfairly and deceptively over-charged an insurer for repairs to two cars and Fady Rony Warda and Rony Amanuel Warda are alleged to have damaged the two cars while the cars were on McLaren's property and billed for the cost to repair the damage to the insurer," explained an FSRA spokesperson.
McLaren asked for a hearing before the Financial Services Tribunal to block the proposed FSRA order. They claimed Aviva's investigation was a "criminal enterprise" and any evidence gathered should be thrown out.
Article content
It isn't illegal to hide video cameras in your car to catch fraud, countered Aviva, and while it is illegal to record private communications, their devices weren't recording audio.
in a decision released this week, the tribunal agreed and refused to throw out the proposed order as an abuse of process.
"Aviva welcomes the tribunal's decision to allow FSRA's action to proceed. Due to ongoing litigation, we are not able to discuss the matter in any further detail," a company spokesperson told the Sun in an email.
More than two years after the sanction was proposed, the tribunal is scheduling a hearing to determine whether the one-year ban should be imposed on McLaren.
No charges have been brought against Fady Rony Warda, Rony Amanuel Warda or McLaren and the allegations against them have not been proven.
McLaren's owners and their lawyers could not be reached for comment.
A call to the shop's Fewster Dr. address was answered by a woman who said they are a different auto repair company called "MACC" and she didn't know anyone by the name of Warda.