Manchester Originals v Northern Superchargers – The Analysis: Cut-off causes chaos for bowlers
ELIZABETH BOTCHERBY: For 90 balls, Northern Superchargers did a fantastic job of restricting Manchester Originals to 132 for 3. The final 10 balls leaked 29 runs.
For the first 90 balls, Northern Superchargers did a nice job of keeping Manchester Originals relatively quiet.
Jos Buttler scored well, hitting 59 runs off 41 balls, while Wayne Madsen (43 off 26) also impressed, but with the assistance of Emirates Old Trafford's big boundaries, a used pitch and a lush, slow outfield, the second-wicket pair were forced to run very hard for their runs.
At one point during their partnership, the Originals went 14 balls without a boundary – not exactly the fireworks The Hundred markets itself on.
It wasn't just the pitch, however, which was cramping Manchester's style. Dwayne Bravo, a veteran of over 500 T20 appearances, deployed his variations nicely, interspersing his 80-odd mph regular deliveries with yorkers and slower deliveries. David Willey (2 for 24) also impressed with the slower ball while Adil Rahid (1 for 20) was miserable as ever.
Perhaps the only player to miss the slower-ball memo was Matthew Potts, whose first set was dispatched for 14. His second went for 10 and it's only thanks to Old Trafford's painfully slow outfield that his figures were as flattering as 0 for 24.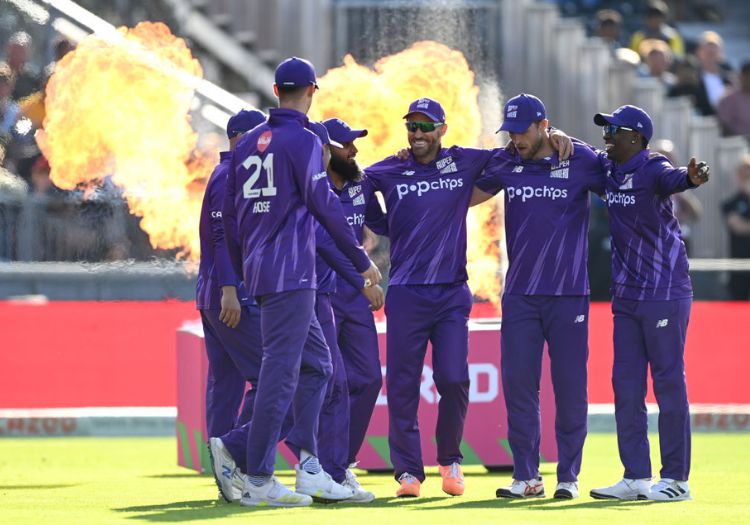 Northern Superchargers lost their composure with the ball [Gareth Copley/Getty Images]
He confirmed on Sky Sports during the second innings that the decision to bowl slower balls was adopted by the team as a tactic following his first-set pummeling.
A 102-metre six from Andre Russell off Bravo ushered in the final 10 balls in ominous fashion but with Manchester Originals on 132 for 3 and Russell laboring to a run-a-ball 15, it wasn't looking too bad for Northern Superchargers. Could Manchester get to 150 was the question.
Then the cut-off reared its head.
In The Hundred, teams have 65 minutes to bowl their 100 balls, with the time allocation adjusted for boundaries, reviews, balls lost into building sites… that's a fairly niche problem for Old Trafford and credit to the builders for stationing a search party behind the fence, a lesson learned during the T20 Blast.
Fail to bowl your sets within the time limit and you are forced to move a fielder inside the ring (in a dream world you would lose a fielder every minute).
And as Northern Superchargers demonstrated, a ticking clock has the potential to turn even the smoothest, most experienced operators into a group of headless chickens.
Sensing the cut-off danger – already a lost cause by this point – David Wiese attempted to whip through his set. He started with a wide. A single followed before Russell crunched him over the boundary. Another single.
Cut-off. Move one fielder inside the circle, please.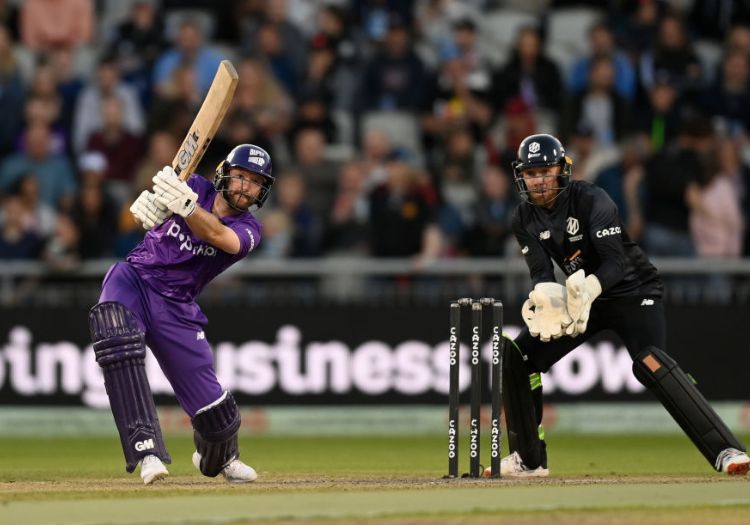 A half-century from Adam Lyth ensured the costly 10 balls didn't come back to haunt them. [Gareth Copley/Getty Images]
By this point, Wiese and Faf du Plessis, who'd been yapping at each other between deliveries for several minutes, were well and truly frazzled. And it came to a head off the following delivery, du Plessis letting the ball go through his hands for six – an uncharacteristic mistake from the South African. Paul Walter added insult to injury with a 99-meter six to finish Wiese's 21-run set.
Credit to Bravo, he conceded just one six, eight runs total, from his final set and also dismissed Walter. A welcome piece of damage limitation but Northern Superchargers' last gasp brain fade had handed Manchester Originals a get out of jail free card: 161 for 4 (their highest score of The Hundred).
Fortunately, it didn't come back to haunt Northern Superchargers on this occasion, with Adam Lyth (51 off 30), Harry Brook (33 off 19) and Wiese – redeeming himself with a pair of match-winning boundaries – seeing their side home. with six balls to spare.
It was, however, more nervous than necessary and the cut-off conundrum will likely decide a few matches before this tournament is over.
Please ensure all fields are completed before submitting your comment!