Luxury-car brand loyalty mostly falling, but Tesla's goes up
The electric-vehicle automaker enjoys more loyalty than any other luxury or mainstream brand, says a new report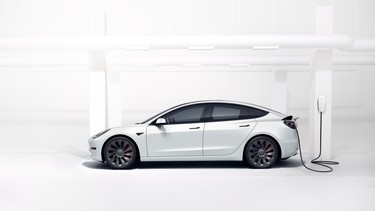 Article content
While many luxury auto brands have seen their customers' brand loyalty shrink over the last year, Tesla not only enjoyed a rise that more than doubled, but it now stands at the highest brand loyalty of any automaker, luxury or mainstream.
Article content
We apologize, but this video has failed to load.
Luxury-car brand loyalty mostly falling, but Tesla's goes up
Back to video
That's according to research from US analysis company IHS Markit, a division of S&P Global, which tracked the rise or fall of buyer brand loyalty from May 2021 to May 2022. It's the percentage of people who, when buying or leasing a new vehicle, select the same brand or same model of the vehicle they last bought or leased.
Tesla finished at 63% brand loyalty in May 2022, up from 29.4% a year earlier and marking a 29% increase.
Tesla's rise was actually tempered by the fact that the survey averaged the numbers nationally across the US In six California markets – San Diego, San Francisco, Fresno, Sacramento, Los Angeles, and Monterey – Tesla's customer brand loyalty was higher than 80%. It was also above its 63% national number among customers in Miami, Cleveland, and Santa Barbara.
Article content
More On This Topic
Tesla discloses lobbying effort to set up factory in Canada

Quebec company takes Tesla Model S Plaid to 347 km/h
The survey also found that in May of 2022, Tesla marked its ninth consecutive month with loyalty that topped 60%, and during a period when all automakers were faced with vehicle-inventory shortages, due to microchips and other supply-chain issues.
Among the twenty luxury brands examined in the study, Lincoln was the only other automaker to increase its loyalty over that period, rising 6.9% over the year, from 44% to 51%. Among those that fell by double-digit percentages were Acura, down 21%; Land Rover, down 14.6%; and Jaguar, which fell by 13.2%. The smallest losses were at Porsche, down 0.3%; Mercedes-Benz which fell by 0.5%; and Maserati was down 1.0%.
Article content
While all of Tesla's models increased their sales over the period, the company's numbers rely primarily on the Model 3, which accounts for 51% of customer retention.
The Model 3 also ranks high in customer retention among us all models from all automakers, premium or mainstream, but it isn't quite the top dog — that honor goes to the Ford Edge, with 71.2% of owners willing to buy another. The Model 3 comes in second at 67.9%. It's followed, in order, by the Toyota Corolla, Mercedes-Benz S-Class, Toyota Corolla Cross, Chevrolet Equinox, Tesla Model X, Lincoln Nautilus, Chevrolet Trax, and finally the Ford Bronco at 64.8%.