Lion Electric posts profit as sales and subsidies pick up speed
Good fortune is set to continue for the Quebec EV company, at least for the next little while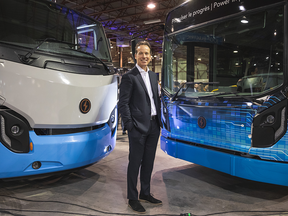 Article content
Saint-Jérôme-based Lion Electric Co. reported net earnings of $37.5 million in the second quarter of 2022, a significant improvement from the year-ago quarter, due to an increase in vehicle sales supported by substantial government subsidies on medium- and heavy-duty vehicles.
Article content
"We delivered the highest quarterly number of vehicles ever with 105 deliveries in Q2," said Marc Bédard, Lion's chief executive. "This is the result of a more stable manufacturing rhythm where we see continued growth in the number of finished vehicles being produced."
The good fortune is set to continue, at least for the next little while. As of Aug. 4, the Quebec company's order book was flush, with 2,357 vehicles valued at $575 million and 226 charging stations representing $3 million.
Here's what you need to know about their earnings for the three-month period ending June 30:
Backstory
The company announced recently that many of its electric trucks were eligible for "stackable" government subsidies of $100,000 and up, putting the price of Lion Electric trucks nearly on par with their gas-powered competitors.
Article content
"In the EV (electric vehicle) space right now, the real challenge is the higher sticker price," said Bédard. "This is going to make a huge difference."
The company, which has a presence in the US market, is closely following the progress of the Inflation Reduction Act, which Bédard believes is on its way to being passed within the next few weeks. "This legislation, once voted, will … represent the single-biggest climate investment in US history. The act currently includes over US$60 billion to increase domestic production of clean energy and transportation technology," he said. "And US$1 billion specifically for green heavy-duty vehicles."
Nate Baguio, senior vice-president of commercial development at Lion, recently sat down with US Secretary of Energy Jennifer Granholm to discuss the decarbonization of the transportation sector, a meeting Baguio called a "proud moment" for the company.

Article content
Earlier this year, Lion signed a Memorandum of Understanding with the US Department of Energy committing to the development and implementation of vehicle-to-everything, or V2X technologies. The company is currently building a 900,000 square foot facility in Illinois.
Financials
Revenue reached $29.5 million in the second quarter, up $12.8 million from $16.7 million in the year-ago quarter.
Diluted net earnings per share were $0.19, compared to a loss of $1.13 per share in the same quarter last year.
The company had an EBITDA loss of $14.4 million in the second quarter, wider than the EBITDA loss of $5.5 million in the year ago quarter.
Shares were trading up slightly at 10 am Toronto time.
Lion Electric CEO predicts Ottawa's new EV-truck subsidy will boost demand

Canada's car industry would vanish in a decade without government aid, says expert

Canada's auto industry breathes a sigh of relief as US rewrites protectionist EV policy
Article content
Outlook
Construction of Lion's US manufacturing facility and battery plant are progressing as planned, company executives said on a call with shareholders on Aug. 5. The battery plant "will have a significant impact on our short-term revenue and accelerate return on investment," said Bédard.
Over the past few months, the company has had to cancel some orders due to supply chain problems, which put "pressure on our manufacturing and development activities," he said. He expects supply chain issues to continue, but said that the company's manufacturing pace and "rhythm" is steadily improving.
Nicolas Brunet, executive vice-president and chief financial officer, said that going forward, the company will be looking toward raising additional capital. Lion also plans to take on new employees towards the end of 2022, as it ramps up bus production.
• Email: [email protected] | Twitter: marisacoulton
If you liked this story, sign up for more in the FP Energy newsletter.
___________________________________________________________