Klyne: Sask. needs to cooperate with Canada on energy, economic future
Cooperation is key to Saskatchewan and Canada's shared success on energy, the environment and economic reconciliation, writes Marty Klyne.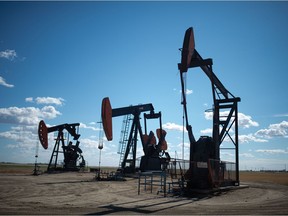 Article content
In late June, The New York Times reported that heat waves around the world are pushing people and nations to the edge. Canadians might have watched in awe as Europe began to issue heat wave warnings followed by a red warning on July 8. Reportedly, Canada's hot summer was then off to a relatively late start. But you can't paint Canada with one color and one broad brush stroke. Canadians only needed to look west to BC, then experiencing its own heat wave, or parts of Saskatchewan experiencing 30-plus temperatures before that. There are many things Saskatchewan shares with the rest of Canada, but weather is not one of them.
Article content
Things Saskatchewan does share with the rest of Canada are inflation, taxes, federalism, equalization and other transfer payments, growing acceptance of diversity through inclusivity, pride, and the Canadian Constitution. Still, we don't always share political views when it comes to policy objectives and spending, while recognizing that is democracy; government by the people.
In addition to Saskatchewan politics and our spirited conversations about our place in the Canadian federation these days, there are many other factors making Saskatchewan unique. Like every other region in Canada, Saskatchewan has its own unique strengths to build on, competitive advantages to cultivate and unique challenges to face head-on. That said, as a federation, we are much stronger and more globally competitive, with huge potential to advance prosperity through an inclusive economy if the senior levels of government, industry and Indigenous nations can collaborate, cooperate and compromise.
Compromise?
Yes, it is through collaboration, cooperation and compromise that Canada took shape and achieved an excellent international reputation, always punching above our weight. However, make no mistake, there are blemishes on this record: Indigenous people in Saskatchewan and Canada have often faced one-sided and coerced compromise, and we must accelerate their participation and contributions in the regional and national economies.
Article content
Based on my experience in business, Indigenous and regional economic development and Parliament — and considering the challenges and values ​​we share across Canada — cooperative leadership will serve us best. In particular, a constructive approach would benefit Saskatchewan at the upcoming federal-provincial Energy and Resource Table, as we look to stake our claim and define our future in a changing economy. That doesn't mean we need to give up pursuing our place in this federation and negotiating or litigating for what we believe is rightfully ours. But we also keep in mind the big picture.
Only active cooperation can deliver success on three related subjects that are vital to Saskatchewan's prosperity and well-being: Energy, the environment and economic reconciliation with Indigenous peoples on treaty lands. While we have spirited conversations about autonomy, let's not take our eyes off the prize and miss our chance to capitalize on opportunities in our wheelhouse and build on our reputation for hard work, productivity, innovation and patriotism. Let's find ways of simplifying complex situations for others by devising made-in-Saskatchewan solutions. We have what the world wants, and we can deliver.
Events this year both in Canada and the United States have reminded us of the importance of maintaining the rule of law in our democratic societies. Peace, order, and good government are Saskatchewan values ​​as much as they are Canadian values. The center of Canadian federalism can and must hold, including respect for federal, provincial, territorial and Indigenous jurisdictions, public institutions and Charter values.
Article content
Mindful of this necessity, what can cooperative leadership achieve for our province? Already, one achievement underway is affordable childcare, further to the 2021 federal-provincial agreement. That agreement will give many kids in Saskatchewan a better start in life and continued education, and will help many parents better balance family, business, social and leisure pursuits. This example of cooperative leadership is a credit to both orders of government, and a model for how to approach other challenges.
On energy and the environment, on June 1, federal Minister of Natural Resources Jonathan Wilkinson — who grew up, studied, and worked in Saskatchewan — launched the Regional Energy and Resource Tables. This is a collaborative effort to bring together the federal and provincial governments, Indigenous peoples, business leaders, industry groups, unions and others to advance key priorities in the natural resources sector. Wilkinson highlighted many emerging opportunities in his recent remarks to the Regina and District Chamber of Commerce and the Saskatchewan Chamber of Commerce. The Tables initiative has involved commencing working-level discussions to establish a Saskatchewan Table, and I hope that Saskatchewan will embrace this conversation and take our rightful seat at the table and fill our boots.
Saskatchewan has much to contribute to a greener economy. Our areas of strength include carbon capture, utilization and storage technologies; flood and drought mitigation through the proposed expansion of Lake Diefenbaker irrigation, which will concurrently lead to sustainable agriculture and food processing setting the table for a burgeoning and incrementally new agri-food sector; Protein Industries Canada, Canada's plant protein supercluster; biofuels; small modular reactors; and, critical minerals, including uranium from the world's largest high-grade deposits. Saskatchewanians can welcome opportunities to leverage these strengths and create prosperity in tomorrow's economy, while contributing to Canada's scientifically grounded environmental goals. A just and fair transition.
Article content
Speaking of just and fair, all these efforts can and must support economic reconciliation with Indigenous peoples. On June 6, a coalition of more than 25 Indigenous organizations unveiled a new National Indigenous Economic Strategy, with four strategic pathways: People, Lands, Infrastructure and Finance. Their 107 Calls to Economic Prosperity can provide new energy and guidance to discussions between jurisdictions.
Cooperation is the key to Saskatchewan and Canada's shared success on energy, the environment and economic reconciliation. Amongst the many things we might do, our province must take its rightful seat at the Saskatchewan Energy and Resource Table and contribute our vision towards a prosperous future for our province and our country.
The Hon. Marty Klyne is a senator for Saskatchewan appointed in 2018, a businessman, former council member of the Provincial Action Committee on the Economy, former COO of Regina Regional Economic Development Authority, former Vice Chair of SaskPower's Board of Directors and Chair of SaskPower's Strategic Issues Committee , and former Chair of the National Indigenous Economic Development Board.
Want to know how we decide what to cover and how editorial decisions are made at the Regina Leader-Post and Saskatoon StarPhoenix? Get the weekly Letter From the Editor newsletter from the Editor in Chief Russell Wangersky and join the discussion on what goes into covering news and delivering commentary, both in print and online. Click here to subscribe.