GUNTER: This is really just a vanity project for Jean Charest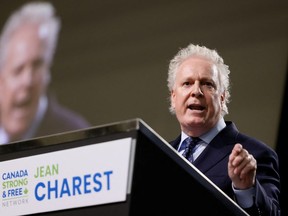 Article content
Jean Charest will not commit to supporting the Conservative Party of Canada in the next federal election unless he wins the party's leadership next month. That makes his campaign nothing more than a vanity project.
Article content
It's all about Jean.
All along, Charest's campaign has been distinguished by its smug elitism and contempt for the Conservative base, indeed contempt for any Canadian who does not share his narrow, "progressive," Golden Triangle (Montreal-Ottawa-Toronto) view of the country.
Charest has shown himself as nothing more than another Justin Trudeau, policy-wise, but perhaps without the Trudeau traits that grate the most: the annoying propensity to virtue signal instead of governing and to issue smarmy apologies for every un-"woke" stroke committed in our nation's past.
Charest and Trudeau seem about equally obsessed with climate alarmism. Indeed, Charest's environmental legislation while premier of Quebec was very similar to Trudeau's policies since becoming PM
Article content
Now, after remarks Charest made following Wednesday's leadership debate, it's clear his unofficial campaign slogan should be "If you won't let me win, I'm taking my ball and going home."
It was a tactical mistake for Charest to appear in Wednesday's debate after frontrunner Pierre Poilievre and social conservative MP Leslyn Lewis declined to attend.
That left Charest alone on stage with the only two other candidates, MP Scott Aitchison and former Ontario provincial legislator Roman Baber. Coupling himself with Aitchison and Baber just made him look like yet another of the distant also-rans. Charest looked smaller rather than bigger.
But perhaps the evening's most telling point came in the post-debate media availability when Chris Rands of CBC asked Charest, "Will you stay in the party and run for it if you don't win?"
Article content
That's a legitimate question, one that is easy to answer straightforwardly – ​​if your answer is 'yes.'
But with a sneer of exasperation, Charest danced around an answer.
"It'll be a real honor for me to lead the party and become the next prime minister of Canada," he replied with no obvious conviction or pleasure in his words.
He added that he is "focused on one single objective and that's becoming the leader of the party and then prime minister of Canada." (That's actually two objectives, but we get the point, Mr. Snarlypuss.)
In a follow-up, Rand asked, "If you lose, would you support Mr. Poilievre?"
Again, an irritated Charest dodged, "There is only one scenario possible, I will become the leader of the party … Thank you."
Article content
It's not hard to fake a "sincere" pledge of loyalty. Happens all the time.
We've all seen past leadership races in many parties in which, after the results have been announced, the runner-up rushes to congratulate the winner, then steps to the microphone and pledges his or her unwavering support for the new boss.
A lot of those runners-up are undoubtedly uttering profanities and insults in their heads, but they're putting on a brave public face for the good of the party.
Not Charest.
Charest's campaign from the beginning has been built on the mistaken belief that a small-c conservative cannot win a general election in Canada. He is a Liberal. (He spent nine years as Quebec Liberal premier and 14 years as leader of the Liberal Party of Quebec since last doing anything formal as a Conservative), with many policies that would delight Liberals, such as a carbon tax, coziness with Communist China, today control and plenty of public spending.
Yet somehow, he expects Conservatives to accept his leadership gratefully just because he's not Justin Trudeau.
I despise Trudeau, but not so much that I would welcome Charest.