Geelong – Sydney AFL Grand Final exotic betting markets preview – CODE Bet
One of the more fun aspects of Grand Final week is all of the weird and wonderful betting markets that usually don't get offered throughout the home and away season.
Now they do!
Take a look at five fascinating Grand Final exotic markets that are being offered for the big game on Saturday!
– 'MAGIC' BINGO – TOPSPORT
(M: Mark A: goal Assist G: Goal scored I: Inside 50 C: Clearance | Player Must complete all 6 tasks | As per official afl.com.au result)
This one seems nice and simple for us.
For this you're more than likely looking for an attacking midfielder who rests forward or a half forward flanker.
The clearance looks the hardest for the 'forward' while the goal is the one for the midfielder.
For the sake of fairness let's go with one player from each team who probably fits that profile.
— Patrick Dangerfield — $3.60
— Chad Warner — $4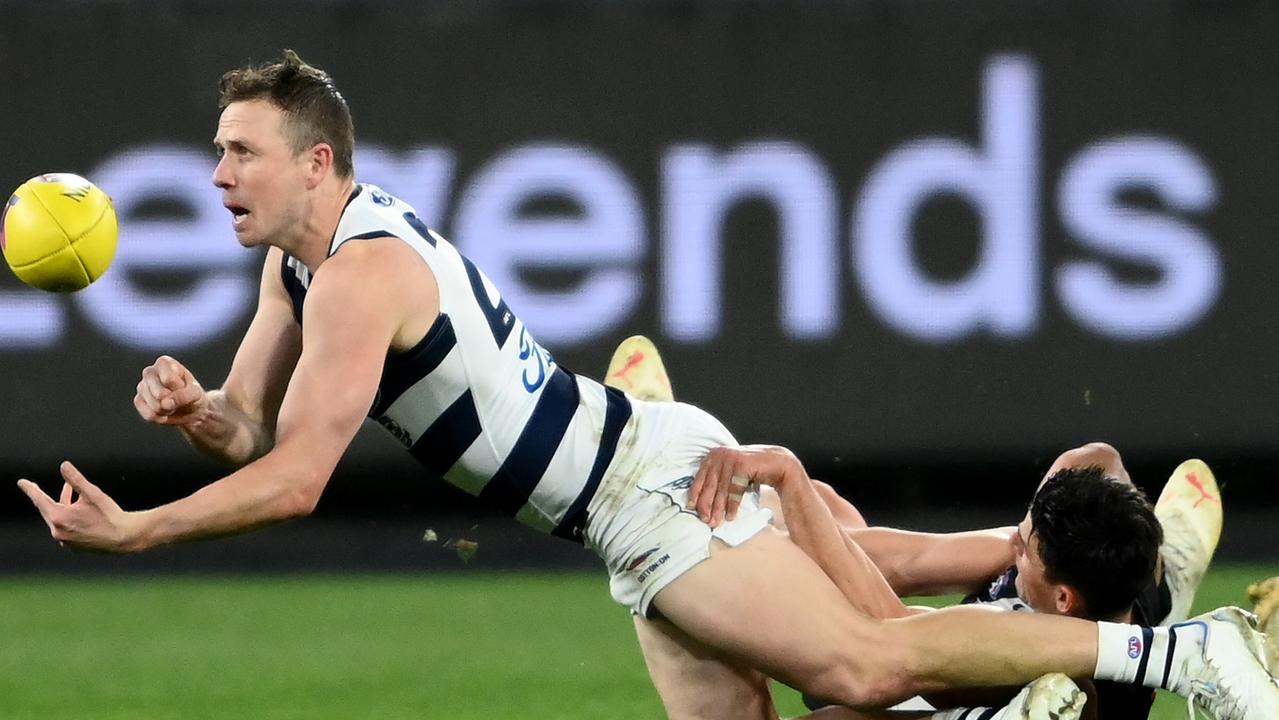 Mitch Duncan of the Cats handballs while being tackled. Quinn Rooney/Getty Images
– TO HAVE A 'TRIPLE DOUBLE' – BLUEBET
Player to accumulate 10+ in any 3 of: Kicks, Handballs, Tackles, Marks, Clearances, Points (Goal =6, Behind =1)
If you can find a player who is going to do this, you're getting good value.
Similar to the 'bingo', the value lies in looking for an attacking midfielder who will hit the scoreboard and be around the pack / footy all day.
The five most likely players given their record in finals and through there career are;
— Patrick Dangerfield ($4.50)
— Luke Parker ($4.75)
— Isaac Heeney ($9)
— Mitch Duncan ($9)
—Tom Stewart ($13)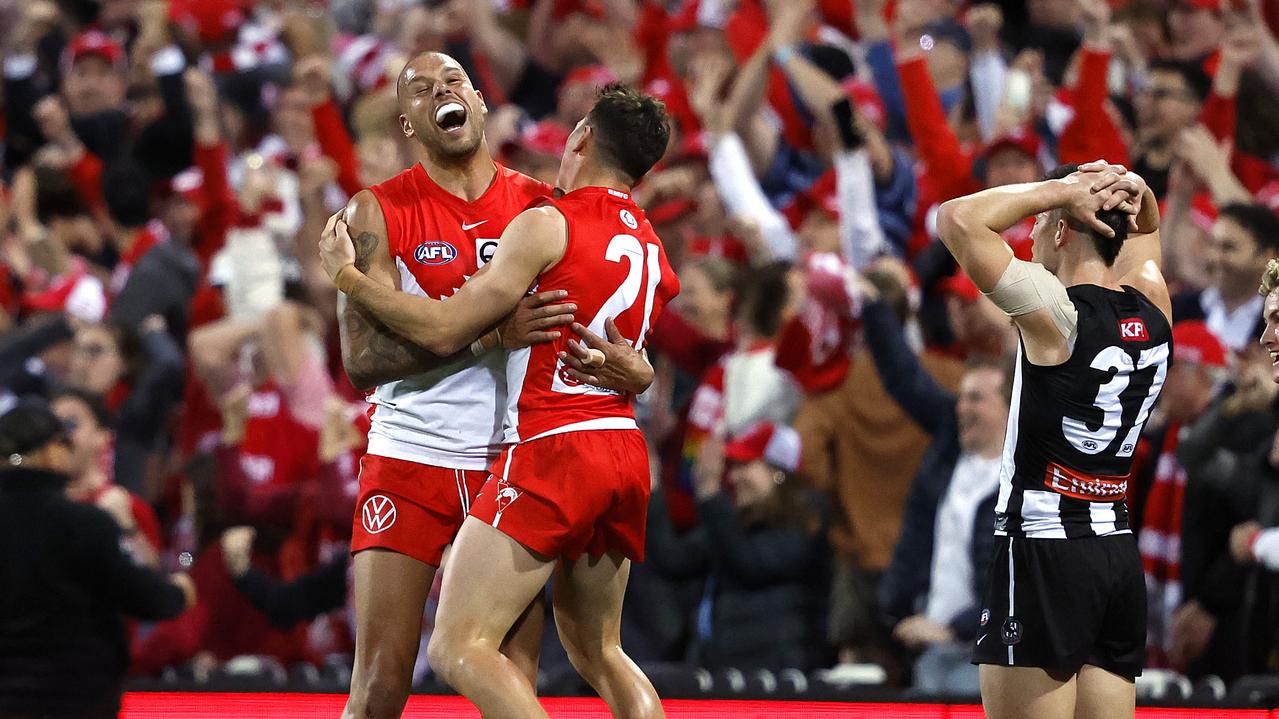 Sydney's Lance Franklin celebrates on the siren with Errol Gulden. Picture: Phil Hillyard
-STAT WARS – BLUEBET
– Tom Hawkins v Lance Franklin – Now Kicks
(I love these markets – I can't believe it is a market.)
In 2022 Hawkins had 209 kicks in 24 games, with only 12 kicks in the two finals he has played so far.
Franklin, in comparison, has had 202 kicks in 22 games, with only 11 in the first two finals.
Against the Swans, Hawkins averages 7.47 a game. Franklin edges him out with 9.8 against Geelong.
Given potential match-ups on Saturday and the numbers. Leaning towards Franklin.
-Lance Franklin: $1.82
– NOW DISPOSALS MATCHUP – BET365
– Cameron Guthrie ($1.60) v Patrick Dangerfield ($2.33) – TIE $17
On pure numbers and face value for this season, Guthrie just wins this matchup.
In 2022 he has a higher average disposals per game than Dangerfield (24.88 v 22.18)
But in finals and overall career, Dangerfield is a clear leader and we saw last week what he can do. 28 possessions in a best on ground performance, compared to Guthrie who only had 21 touches.
There looks to be value in Dangerfield here at $2.33.
The worry, though, is he can do it two weeks in a row? It also looks as if he will cop a tag.
But Guthrie has been underwhelming in the two finals so far. So let's lean to Dangerfield.
— Patrick Dangerfield — $2.33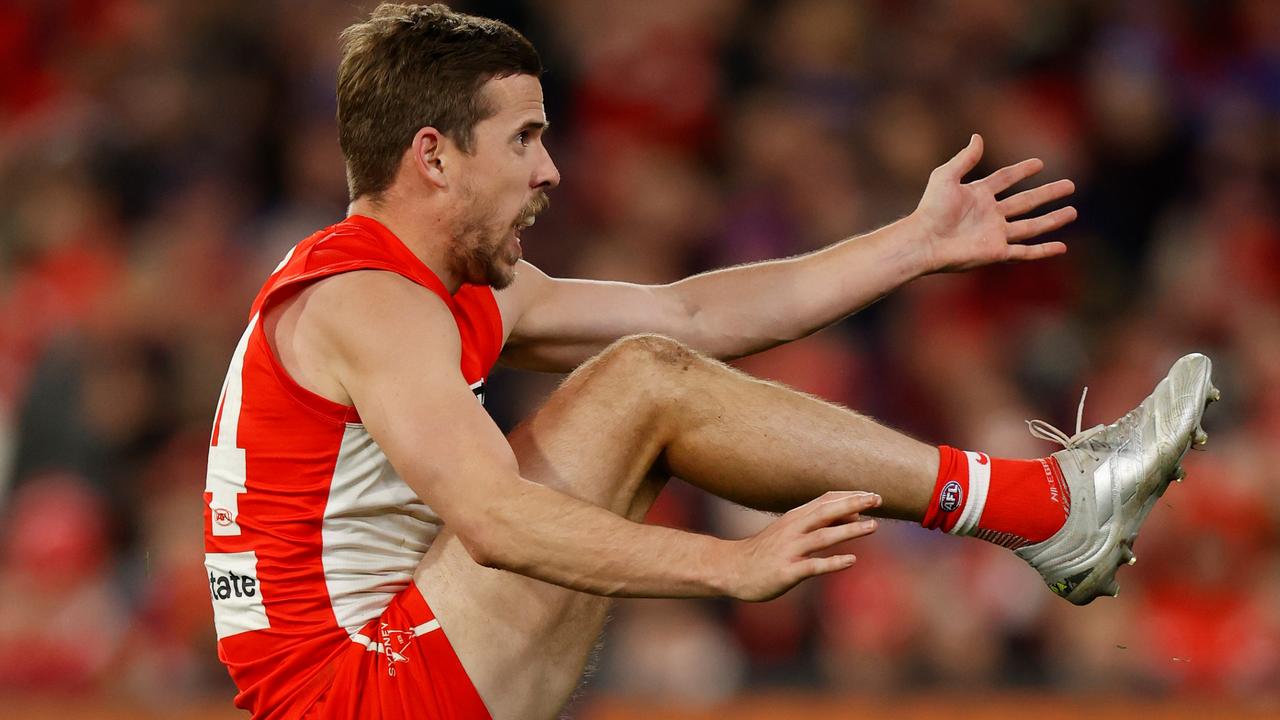 Jake Lloyd of the Swans kicks a goal. Picture Michael Willson/AFL Photos via Getty Images
– TOTAL PLAYER DISPOSALS – BET365
– Jake Lloyd – Over / Under 22.5 Disposals
Lloyd has been a prolific ball gatherer for the Sydney Swans throughout his career and this season averages 24 touches per game. It seems quite a simple bit of value to take over.
A wise man once said;
"Never bet the under, once they go over, they can never go under"
Lloyd in every season (including) since 2016 has averaged 24 or more possessions a game.
In finals though, that average dips to 21.
His past three finals yielded an average of 22.33.
This would be backing Lloyd to step up and break the 'outs' in recent times and to have a big influence on the game.
— Jake Lloyd over 22.5 Disposals – ($1.65)
CODE BET AFL HUB