Council to review End Poverty Edmonton funding after scathing report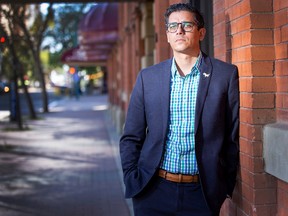 Article content
End Poverty Edmonton (EPE) will be under scrutiny at city hall as councilors debate giving the agency money held back following a scathing review last year.
Article content
Council increased funding for the group to $2.1 million last fall but withheld $600,000 pending a review set for next week. A city evaluation last year found EPE could not show what impact it was making on poverty, did not have a way of measuring its success, lacked involvement of people who are or have been poor, lacked clarity and transparency in its governance structure, and there was a general lack of clarity on roles and responsibilities within the organization.
Article content
Ward Karhiio Coun. Keren Tang, who initiated the motion last fall, told Postmedia she wanted to create an incentive for the group to demonstrate its value to council and for reducing poverty, and show that it's achieving its goals.
"For a very long time, no one could really articulate what EPE has accomplished and they had a rocky start for the first two years," she said. "I wanted some funding to be held back so we hear, 'Are you demonstrating results, are you showing outcomes on our investment.' And if it's satisfactory, and we believe it's a good investment, then we release the funds.
Article content
"This is a really major investment and I think we really need to know what we're investing in."
A new evaluation this July found there was some improvement while other issues have persisted.
Rather than tackling a broader range of goals, the group has since been honing in on five priority work areas including livable wages, anti-racism, and affordable housing.
But in the new evaluation, it's clear a significant number of employees still don't understand EPE's overall goals and how their work fits in. Concerns around governance and leadership have also persisted.
While it will take a long time to reach EPE's ultimate goal of "ending poverty in a generation," and the work is complex involving many different agencies, EPE has already been around for nearly six years.
"I have seen some of the improvements… but I don't expect everything to be resolved. Part of this check-in moment is for them to demonstrate their value, and I hope they can," Tang said. "It's been a long time, and I want to see results."
Article content
Demonstrating value
EPE's approach is different from other anti-poverty organizations.
It doesn't do frontline work or provide funding to charities that do — it's a broker organization that brings together existing charities, social services, the private sector and government agencies, to identify how the different groups can work together to tackle broader social problems.
Executive director Erick Ambtman said asking EPE to demonstrate its value is fair. But with a focus on broad and long-term systemic changes to end poverty, it can be difficult to measure.
"We have this goal of ending poverty in a generation, so you're playing this very long game, but you should have short-term results," he said. "I think our short-term result is we understand how to build a climate in which change can occur, but the next thing that we're going to have to demonstrate is that (impacting the) climate results in change."
Article content
"If it doesn't, then I think I'd be the first person to say, 'We tried and we failed, and so reallocate, because there's better use for these dollars because we didn't, we couldn't do what we thought was possible, our theory of changes was wrong.'"
Ambtman thinks there's about a two-year window where they will find out if what they are doing is working. He's optimistic it will.
"I would expect to be generating wins regularly going forward, and I think be able to really make a splash in the next year or two to say, 'Here's the value of this thing and it's paying off'."
EPE has been working on a new framework with a set of tangible outcomes which is almost complete. It also hired a new staff member who will bring in people who have experienced poverty and include their perspectives in decision-making.
Article content
Within the last year, EPE also incorporated as a not-for-profit to give it independence from the United Way and allow it to do more advocacy work.
On Tuesday, Ambtman attended a news conference with the Alberta NDP advocating for the province to act on homelessness.
Ambtman also points to its inclusive economy work as a success. They identify barriers to employment and bring different community, business, and workforce development groups together to connect people with jobs paying a "living wage" — $18.10 an hour in Edmonton — such as the contractor for the West LRT extension.
EPE also helped with the city's social procurement policy in planning a new approach to affordable housing.