Audi bringing Grandsphere, A6 e-tron Avant concepts to production
Article content
While Audi hasn't released actual images of either of two of its upcoming vehicles, the RS6 e-tron and the A8 e-Tron, the company says enthusiasts can still get a good idea of ​​what they're going to look like by checking. out the concepts that preceded them.
We apologise, but this video has failed to load.
Audi bringing Grandsphere, A6 e-tron Avant concepts to production
Back to video
According to the brand's head of design, March Lichte, the Grandsphere concept is extremely close to what his team is sending into production wearing the A8 e-Tron badge. "The Grandsphere is a very concrete teaser. It's not far away from what will become production. It's not one-to-one, but very close," Lichte told autocar.
Recommended from Editorial
Audi's Sphere concept cars showcase its fully EV future

Audi's 2023 A6 Avant e-tron aims to 'reverse SUV trend'
Audi has teased four different fully-electric concepts as part of its "Sphere" design exercise, including the aforementioned Grandsphere sedan, a futuristic convertible coupe dubbed Skysphere, a full-sized SUV called the Urbansphere, and, just this month, the Activesphere, a quirky off-road crossover.
Article content
But there have been other fully electric concepts released by Audi over the last few years, too, including the A6 e-tron Avant Concept. Lichte went on to estimate that "90 per cent" of the A6 e-tron Concept (pictured at top) is what we'll see come to market later when the new RS6 e-tron is released next year.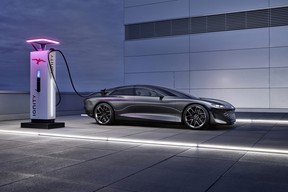 While there's only so much we can speculate about the design of these two new Audi EVs, what we do know for sure is that the brand's electrified vehicles are being built on the PPE architecture that it created in partnership with VW Group.
Will the trend of Audi concept vehicles making it through to production largely continue for the recently dropped Activesphere coupe-pickup mash-up? It's unlikely, but there'd probably be a few Canadian buyers if it did.