Are Mercedes And Lewis Hamilton's Troubles Leading To 2023 Woes For The Team?
With the year-end closing in on us soon, Mercedes still seems to be struggling with their plan for 2023. This season for Mercedes hasn't been the best as they continue to face troubles with the W13. Lewis Hamilton has been pretty vocal about their lack of pace. As for Lewis, he feels restricted and is afraid this might be a win-less season for him.
ADVERTISEMENT
Article continues below this ad
With 2023 approaching, Mercedes is still deciding on their 'basic' concept for the car.
Having nailed down bits of the design that include the gearbox layout, brakes, and front suspension, the main model isn't in place yet. Lewis Hamilton is actively contributing his inputs regarding his needs off of the car.
ADVERTISEMENT
Article continues below this ad
The very basic aerodynamics of the car are yet to be put together. This is apparently taking a lot longer as the much dominant Ferrari and Red Bull aren't going along with Mercedes' innovative idea of ​​having no sidepods.
With arguably the strongest car this season, Red Bull's technical director, Pierre Wache was assertive in pointing out that Mercedes won't be able to catch up by merely copying the dominant car's sidepod concept.
Amid all this, Lewis Hamilton has said, "Right now my focus is on expressing what I want for the car next year, because development happens very quickly."
In addition, Mercedes' engineer Andrew Shovlin said, "You'd always say that the fastest car is the one that's got the best concept. So today that's Red Bull."
"Where that goes into next year is difficult to say. And certainly we, as a team, have not fixed what our car is going to look like. We're still exploring different concepts and that process will go on for some time."
Despite the car trouble, Damon Hill believes there might still be hope for Mercedes after all.
Damon Hill Claims Mercedes Will Still Have a Chance This Season
Even though Lewis Hamilton and George Russell have shown tremendous efforts this season, the Silver Arrows remain winless.
With six more races to go and the W13 still being the 3rd fastest car after the RB-18 and the F1-75, the chances sure seem rather bleak. This will surely be a hard hit as Lewis' 15-year streak of getting at least one win in a season may come to an end.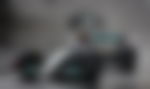 Former F1 world Champion Damon Hill had a different take as he spoke his mind on F1 Nation podcast.
He said, "Believe me when you're in that situation in the sport, you know, the pressure is enormous from the media. But we're still asking the question Can Mercedes win the race?"
ADVERTISEMENT
Article continues below this ad
"Something will happen, we always get a crazy race somewhere between now and the end of the year, there's going to be a crazy race and Mercedes could well pick up that win."
"That would scupper Max's chances of winning every single race until the end of the season. But we'll see. There's gonna be rain, one of them is gonna be wet, Suzuka is going to be wet!"
ADVERTISEMENT
Article continues below this ad
Watch This Story: Sir Lewis Hamilton Received a Lesson In Royalty From Queen Elizabeth
What are your thoughts on Hill's prediction? Do you agree? Or will this be a win-less season, as Hamilton's fans fear?