Anger in Perth as flooding victim driver told to buy more sandbags
A Perth motorist has hit out at council flooding advice after seeing her second car washed out in two years.
More than a month's worth of rain fell on the city in around three hours on September 8.
Queen Street resident Gayle Cox discovered her car had been washed down the street in the torrent.
She is one of many angry Perth residents picking up the pieces after the town's most recent flood.
Local SNP MP Pete Wishart is arranging an urgent public meeting in a bid to tackle the issue.
He says there's a "real sense of dread" among residents that more flooding is to come.
Perth and Kinross council officials told residents to sandbag their properties prior to the latest deluge.
"Seeing the responses from the council and their justification for it actually makes you more angry," says Gayle.
"Are we supposed to sandbag the street to protect our cars?
"It's totally unrealistic."
She is hopeful her red Audi is salvageable this time around but she was not so lucky in August 2020 when her previous car was also written off by floodwaters.
The moment was caught on video and shared on Twitter.
September 08, 2022#scotland | Heavy Rains caused Flash Flood in some Parts of Perth city#floods #flood #banjir #lluvias #flooding #uk pic.twitter.com/62DPqCzTrh

— CLIMATE Change 🌪️🌋❄️ (@weatheralert15) September 8, 2022
Call for Perth flooding action now
Gayle describes PKC's progress on tackling flooding as "far too slow".
"There's a house on the corner that hasn't been lived in since the last floods.
"Our insurance is going to go up – housing insurance, contents insurance, car insurance."
Gayle suggests increasing the capacity of watercourses, such as the Craigie Burn, to prevent flooding.
"There's no point in sending diggers to clear the silt off the bottom, they need to increase the capacity."
Perth garage owner questions housebuilding
Hamish Storrar is the owner of Cherrybank Garage.
He has called for a moratorium on development.
"They've got to suspend all building until we get the flooding fixed.
"They have to suspend all planning in this area, Perth, until they get a hold on the drains.
"Because if not, it's just going to happen again.
"They cannot build any more until they sort out the drainage infrastructure."
The recent deluge flooded the forecourt of Hamish's garage, but "not badly".
However, he had previously experienced flooding "above my knees".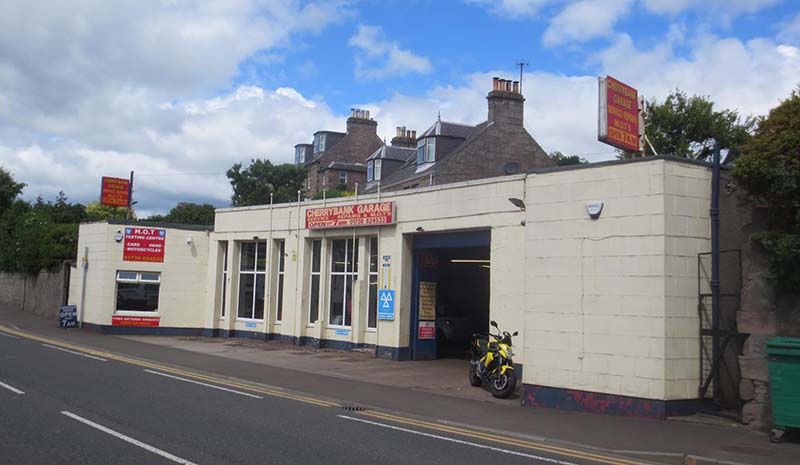 "We got a letter from the council. It says it's due to every tenant, householder, to put up their own flood prevention.
"But at the end of the day, that's impossible.
"The council have got a duty of care to the public.
"It's shocking."
Hamish says rapid housebuilding is taking away fields that could absorb rainfall.
Paved driveways are making the situation worse, he says.
"Years ago, if you had a posh drive, it was gravel.
"Now everybody has patios, monoblock drives, tar. The water's got nowhere to go."
What action is PKC taking?
PKC implemented the Perth Flood Scheme 20 years ago.
This included three flood ponds at Broxden to contain excess water.
The council published the Tay Local Flood Risk Management Plan in 2016.
Among the actions in this plan is the current Craigie Burn Flood Study.
But when this will turn into real solutions is unknown.
"Such projects take a long time to come to fruition," says a PKC spokesperson.
"Any new measures to manage the risk of flooding in the future, such as new flood defenses, require a long process of design, statutory approvals and procurement prior to construction."
'Not possible' to prevent all Perth flooding
The PKC spokesperson says climate change is causing more frequent and severe flooding, meaning "it is not possible" to prevent flooding entirely.
"During flood events, we work together with a number of agencies to provide assistance where possible, where resources are available and on a priority basis.
"However, individuals have the responsibility to protect their own properties in the first instance.
"Therefore we continue to local communities to be proactive in carrying out measures to protect their own properties and strongly advise residents in flood risk areas to maintain their own supply of sandbags, or other flood protection products, in advance of flooding encouragement."
Mr Wishart is trying to get PKC, Scottish Environment Protection Agency and Scottish Water to attend a public meeting.
He says details of the event would be announced shortly.
"Long-term solutions will not be straightforward nor cheap.
"But the fact is that the cost of action will be greater.
"It is therefore vital that all relevant parties act now to create a comprehensive plan which will better protect residents of these areas from future events of this scale."
Already a subscriber? Sign in
[Anger in Perth as flooding victim driver told to buy more sandbags]
[[text]]